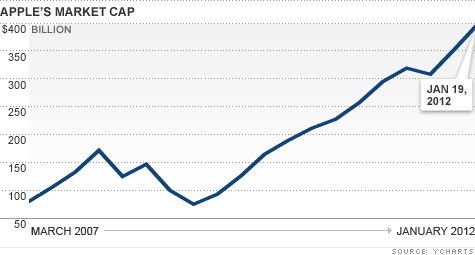 NEW YORK (CNNMoney) -- Apple's value on the stock market briefly rose to $400 billion on Thursday, a record high for what was already the world's most valuable technology company.
The company's market cap slipped below the $400 billion mark by midday as Apple's (AAPL, Fortune 500) stock fell back from the all-time high of $431.37 it set earlier in the morning. Shares ended the day slightly down, leaving Apple with a $398 billion market value.
Still, that puts Apple in some pretty exclusive territory. Only Exxon Mobil (XOM, Fortune 500) has a higher valuation, at about $420 billion. PetroChina (PTR) is Apple's closest competitor, at $270 billion, and Microsoft (MSFT, Fortune 500) follows at $235 billion.
Apple's market cap is higher than the gross domestic product of Greece, Austria, Argentina, or South Africa. (For more comparisons, check out this excellent blog: Things Apple is Worth More Than.)
Despite its size, Apple is still one of the fastest growing technology companies. The company will report its finances for the past quarter next week, and analysts expect Apple to announce that its sales grew by 45% compared to last year, according to a survey conducted by Thomson Reuters.
Unsurprisingly, Apple topped CNNMoney's survey of technology analysts about the best tech company to invest in for the future. Choosing Apple for the prestigious spot as one of the Four Horsemen of Tech, respondents noted that Apple is a frontrunner in the smartphone revolution. Its iPad created a new category of mobile computing, and Apple has embraced cloud computing with its high-profile iCloud.
Apple's growth is a stunning achievement for a 35-year old company that had a market cap of just $10 billion a decade ago.
The company's turnaround began with the launch of the iPod, and growth really skyrocketed after the iPhone's release in 2007. Apple is forecast to have sold a record 30 million iPhones last quarter, following the launch of the iPhone 4S in October.
Apple on Thursday announced three new initiatives to reinvent the textbook, including the ability to create and publish searchable, updatable and interactive e-textbooks for the iPad. The company also released a publishing tool for secondary school curriculums and instituted a $15 price cap for e-textbooks on the iBookstore.