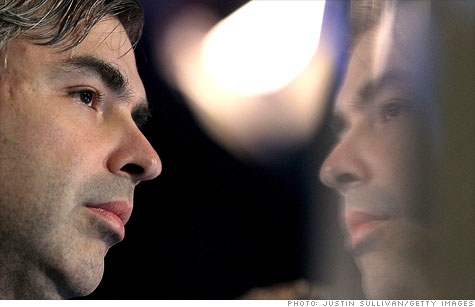 Larry Page is wrapping up his first full year as Google's CEO.
NEW YORK (CNNMoney) -- A search for Google on Friday will return some pretty ugly results.
Shares of the search giant tanked 8% Friday, after Google (GOOG, Fortune 500) reported quarterly profit and sales late Thursday that rose from year-ago results but badly missed Wall Street's forecasts.
Though the number of clicks on Google's ads increased, the amount that advertising partners pay per click decreased substantially: Paid clicks surged 34%, but cost-per-click fell 8% compared to last year. Google noted that increased clicks can sometimes lead to lower cost-per-click rates.
The company explained that the share of mobile ad clicks grew, which are less expensive for advertisers to purchase. Google also tinkered with its search algorithm, which temporarily led to a greater amount of clicks on lower-cost ads.
It wasn't all doom and gloom, however. Google+, the company's new social network, soared to 90 million users -- well shy of Facebook's 800 million but still rapid growth, considering the service only launched in June.
What's more, Page said that 60% of Google+ users engage with the service every day, and 80% use Google+ on a weekly basis. Some analysts suggested that users were signing up for the service and not returning to it, but Google's latest stats seem to counter that belief.
Yet Google's new Search Plus Your World integration with Google+ has drawn accusations of anti-competitive practices, worrying investors that Google will face harsh antitrust scrutiny going forward.
"By building a meaningful relationship with our users through Google+, we will create amazing experiences across our services," Google CEO Larry Page said on a conference call with analysts.
Other Google products grew as well, proving that Google continues to grow beyond its core search business.
Android, Google's mobile operating system, is soaring, with more than 700,000 smartphones activated every day. There have now been 250 million Android devices sold, up 50 million from November.
Page said that Google is still "very early in the monetization stage" of Android, but added that the company is making money on it and is very optimistic about mobile revenue growth for the future.
Gmail usage grew to 350 million active users, and Google's Chrome browser is used by about a quarter of all Web users, according to some metrics. Display advertising -- banners and in-video ads -- grew to a $5 billion annualized sales rate in the quarter.
By the numbers
The world's online search leader said its net income in the fourth quarter rose to $2.7 billion, up 7% from a year earlier.
Results included one-time charges totaling $420 million. Without the charges, Google said it earned $9.50 cents per share. Analysts polled by Thomson Reuters, who typically exclude one-time items from their estimates, had forecast earnings of $10.49 per share.
Profit rose less than expected. Google's costs soared as the company continued its hiring and spending spree. The search giant upped its headcount by 4% compared to last quarter, and spent nearly $950 million on new infrastructure. The company said it expects to continue to make "significant" capital expenditures going forward.
As headcount rises, so does the amount it costs to pay those employees. Stock-based compensation for the quarter soared 35% over a year ago to $536 million. Page made no apologies for the amount the company spends on its staff, and he said he was "super excited" that the company topped Fortune's Best Places to Work list for 2012.
Sales for the Mountain View, Calif.-based company rose 25% to $10.6 billion -- the first time Google's quarterly revenue exceeded the $10 billion mark.
Excluding advertising sales that Google shares with partners, a figure also known as traffic acquisition costs, the company reported revenue of $8.1 billion, which missed analysts' forecasts of $8.4 billion.
Despite missing forecasts, Google's Chief Financial Officer Patrick Pichette noted that the fourth quarter of 2010 was so good that it served as a difficult comparison. He said he's "not worried, because we continue to have very strong growth."
Google was just one part of a Big Tech earnings deluge on Thursday. Microsoft (MSFT, Fortune 500), IBM (IBM, Fortune 500) and Intel (INTC, Fortune 500) all reported their results after the bell. IBM earnings topped forecasts, as did Microsoft and Intel, despite slipping PC sales.