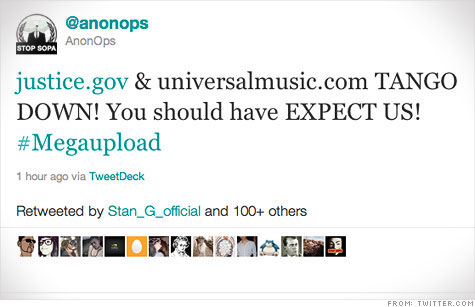 Anonymous went on a rampage after a federal raid shut down popular piracy hub Megaupload.
NEW YORK (CNNMoney) -- In one of the U.S. government's largest anti-piracy crackdowns ever, federal agents on Thursday arrested the leaders of and shut down Megaupload.com, a popular hub for illegal media downloads.
Hours later, Megaupload's fans turned the table on the feds. "Hacktivist" collective Anonymous said it set its sights on the U.S. Department of Justice and apparently knocked the agency's website offline.
"We are having website problems, but we're not sure what it's from," a DOJ spokeswoman told CNNMoney.
The DOJ website glitches came soon after various Twitter accounts associated with Anonymous took aim at the agency.
Anonymous's favorite weapon for these attacks is what's called a "distributed denial of service" (DDoS) attack, which directs a flood of traffic to a website and temporarily crashes it by overwhelming its servers. It doesn't actually involve any hacking or security breaches.
"One thing is certain: EXPECT US! #Megaupload" read one tweet from AnonOps that went out mid-afternoon.
One hour later, the same account tweeted a victory message: "Tango down! http://universalmusic.com & http://www.justice.gov// #Megaupload"
It was the largest attack ever by Anonymous, according to an Anonymous representative, with 5,635 people using a networking tool called a "low orbit ion cannon." A LOIC is software tool that aims a massive flood of traffic at a targeted site.
Universal Music's website also went down Thursday afternoon. The music company had been locked in a legal battle with Megaupload over a YouTube video that featured many of Universal Music's signed artists promoting Megaupload's site.
The websites of the Recording Industry Association of America and Motion Picture Association of America went down Thursday afternoon as well. On Twitter, AnonOps -- one of the main communications channels for the leaderless Anonymous collective -- took credit for the crashes.
An RIAA spokesman confirmed that the organization's website was intermittently offline. But he cast the attack as a minor hiccup.
"The fact that a couple of sites might have been taken down is really ancillary to the significant news today that the Justice Department brought down one of the world's most notorious file sharing hubs," he said.
By Friday morning, all but one of the subjects of Anonymous' attack were back online -- including the FBI's website, Warner Music Group and the U.S. Copyright Office. Only Universal Music remained unavailable, as the company took the site down for "maintenance."
A piracy crackdown: The Anonymous attack came soon after the DOJ announced the indictment of seven individuals connected to Megaupload for allegedly operating an "international organized criminal enterprise responsible for massive worldwide online piracy of copyrighted works."
Authorities said the operation had generated more than $175 million in illegal profits through advertising revenue and the sale of premium memberships.
According to the indictment, Megaupload, which launched in 2005, was once the 13th most visited website on the Internet, serving as a hub for distribution of copyrighted television shows, images, computer software and video games.
The site's popular MegaVideo subsidiary was widely known in tech circles for its copious selection of pirated content, including recent movies and episodes of hit TV shows.
Four of those indicted were arrested Thursday in Auckland, New Zealand, at the request of the U.S. Three others remain at large.
The individuals indicted are citizens of New Zealand, Germany, Slovakia and the Netherlands. No U.S. citizens were named. However, Megaupload has servers in Ashburn, Va., and Washington D.C., which prompted the Virginia-based investigation.
To shut down Megaupload, federal authorities executed 20 search warrants in eight countries, seizing 18 domain names and $50 million worth of assets, including servers located in Virginia, Washington, the Netherlands and Canada.
The news comes as lawmakers have turned their attention to anti-piracy legislation. Protests erupted both online and offline this week against two bills currently under consideration in Congress: the House's Stop Online Piracy Act (SOPA) and the Senate's Protect IP Act (PIPA).
The bills are aimed at cracking down on copyright infringement by restricting access to sites that host or facilitate the trading of pirated content. But the legislation has created a divide between tech giants, who say the language is too broad, and large media companies, who say they are losing millions each year to rampant online piracy.
-CNN Justice Producer Terry Frieden and CNNMoney staff writer David Goldman contributed to this report.