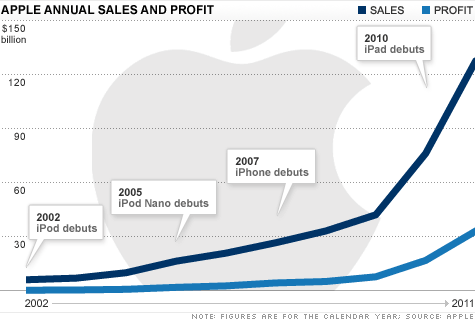 NEW YORK (CNNMoney) -- Ask Siri how Apple recorded the best quarter in history for a tech company, and her answer should be: "Me."
Apple sold a stunning 37 million iPhones last quarter, twice what it sold in the same period a year ago. IPad sales doubled to a record 15.4 million. Apple moved 5.2 million Macs, the first time Apple sold more than 5 million of its PCs in a quarter. The company also sold 15.4 million iPods during the holiday quarter, which ended Dec. 31.
Apple's stellar quarter generated sales of $46.3 billion, a tech industry record. That's up 73% from a year ago, and it easily topped Wall Street analysts' $38.9 billion median forecast, according to a Thomson Reuters poll.
Apple had $127.8 billion in sales during the 2011 calendar year, putting it neck-and-neck with Hewlett-Packard (HPQ, Fortune 500), the nation's largest tech company. This year, Apple is on pace to become the biggest technology company in the world, measured by revenue, outpacing current global No. 1 Samsung.
The Cupertino, Calif.-based company said its fiscal first quarter profit rose to $13 billion, or $13.87 per share, more than double the profit Apple booked a year earlier.
It was one of the most profitable quarters ever for any U.S. company, trailing only ExxonMobil's (XOM, Fortune 500) record-setting $14.8 billion quarter from the fall of 2008, when oil prices were at an all-time high.
Apple is sitting on most of those profits. It now has $97.6 billion in cash.
Peter Oppenheimer, Apple's chief financial officer told analysts on a conference call that Apple is discussing what to do with that cash -- but he added that the company is "not letting it burn a hole in our pocket."
Apple's iPhone sales were lifted by October's launch of the iPhone 4S, the eagerly awaited successor to the iPhone 4. The Siri-powered device came out months later than its predecessors did in past years, sending pent-up demand sky-high for the phone. (Click here for a chart illustrating the iPhone's epic sales growth.)
The iPhone alone generated $24.4 billion in sales during the quarter for Apple.
The iPad also outpaced expectations. Apple's CEO Tim Cook said on the conference call that he didn't see "any effect, plus or minus" from Amazon's Kindle Fire. He said he believes that's because Amazon's (AMZN, Fortune 500) low-end e-reader/tablet is in a different category than the iPad.
The real iPad competitor, Cook said, is the PC. Tablet sales outpaced desktop PC sales during the quarter according to industry research firm IDC, Cook noted.
Apple has now sold 315 million iPhones, iPads and iPod Touch devices running its iOS software. The success of the company's mobile devices has led to 85 million customers signing up for iCloud, the company's new cloud storage service. Apple also said that 600,000 people have already downloaded Apple's new textbook creation app for the iPad, which was introduced last week.
"We're thrilled with our outstanding results and record-breaking sales of iPhones, iPads and Macs," Cook said in a prepared statement. "Apple's momentum is incredibly strong, and we have some amazing new products in the pipeline."
Apple Stores performed very well during the holidays, generating $6.1 billion during the quarter.
For the current quarter, Apple said it expects earnings of $8.50 per share on sales of $32.5 billion. Historically, Apple's outlook has tended to be quite conservative, so investors were cheered that Apple's forecast was more optimistic than most analysts'.
Apple CFO Oppenheimer said that he expects iPhone and iPad sales this quarter to fall a bit from holiday levels, but they will still grow year-over-year. Cook added that the company underestimated demand for the iPhone, but it is working to bring supply up to match it.
Shares of Apple (AAPL, Fortune 500) rose 8% in after-hours trading.