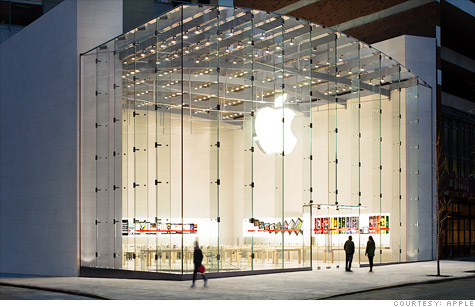 Barack Obama doesn't live here, but this Apple store is worth about as much as his house.
NEW YORK (CNNMoney) -- Which is more valuable: The White House or one single Apple store?

It's almost a tie. Apple (AAPL, Fortune 500) sells an annual average of $4,709 worth of merchandise per square foot in its hundreds of stores across the world. Meanwhile, the presidential mansion in Washington is valued at $4,752 per square foot, according to real estate website Zillow (Z).
Sure, that's a wildly apples-to-oranges comparison. But it's also a fun way to spotlight the cash geyser Apple stores have become.
The tech giant's sales-per-square-foot numbers put it in uncharted retail territory. Although it's not the world's most valuable store -- there are a few ultra-high-end luxury retailers with very small floor space that do better -- it is by far the most valuable chain in the U.S.
The runner-up, Tiffany's (TIF), lags way behind. Tiffany's averages $2,974 per square foot, according to industry publication RetailSails. That's almost 40% less than Apple hauls in.
It's a pretty stunning accomplishment for a brand that opened its first store -- an outpost in Tysons Corner, Va. -- just 11 years ago.
"Apple in a few short years has gone from having not any retail presence at all to top-10 and heading north," said Craig Johnson, CEO of research firm Customer Growth Partners.
Many retail analysts scoffed when the company opened its first smattering of stores in 2001. PC rivals Dell (DELL, Fortune 500) and Gateway had already failed miserably in the retail business.
But Apple had the last laugh: It had 357 stores with a total of 3 million square feet of space as of October, the date of its last annual report. Those stores brought in $14.1 billion during Apple's 2011 fiscal year.
The main reason Apple performs so well is that it sells high-end, pricey consumer products. Its Macintosh personal computer line starts at $1,000, the iPad costs at least $500, and even the iPod costs at least $50. Apple's most popular device, the iPhone, starts at $649 -- which most consumers don't realize since the carrier typically subsidizes most of that cost.
But analysts say it's not just the cost of the products that drives Apple's stratospheric sales. The company has executed and executed a near-flawless strategy, from the stores' architecture and design right down to their sales staff.
"One way to look at Apple's retail success is in sales per square foot, but a second is brand identity," said Candace Corlett, president of consulting firm WSL Strategic Retail. "Where Dell stores didn't create any brand identity, Apple creates an identity of openness and transparency with its open spaces and windows. It fosters a sense of a creative, transparent, and welcoming community that transcends bricks-and-mortar."
The mastermind behind Apple's retail operations, Rob Johnson, left last year to become the CEO of JC Penney (JCP, Fortune 500).
But so far, Apple hasn't missed a step. It keeps raising the retail bar. For instance, after Johnson left, Apple took away any separation between the shopper and sales associate. Sales staff are now equipped with handheld checkout devices, eliminating the need for most buyers to stand in line -- the part of the retail experience that most shoppers hate most.
"It's way ahead of everyone else in retail," Corlett says of Apple's brand aura. "There are other stores that create a sense of community, like Sephora, or a sense of excitement, like Victoria's Secret, but it's hard to think of any retailer's identity that was as powerful from day one as Apple."