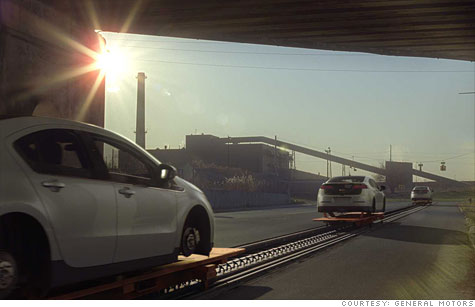 General Motors' Chevrolet Volt TV ad shows the Volt production line stretching from the factory out into suburban American roads.
NEW YORK (CNNMoney) -- Now that the National Highway Traffic Safety Admin station has closed its investigation into vehicle fires in the Chevrolet Volt, General Motors is left to clean up the public relations damage.
The media counter-attack started Wednesday with newspaper and television advertisements that coincided with GM chief executive Dan Akerson's appearance at a Capitol Hill hearing on the investigation.
"I do think there has been collateral damage [to the Volt's reputation]," Akerson said during the hearing. "We're going to have to work hard to get it back and I think today is a great start."
The hearings, which focused on the timeliness of NHTSA's response to the fires, provided an opportunity for Akerson to fully explain what happened with the car, he said, and what GM had done in response.
NHTSA and GM agree that the potential for fire posed little, if any real risk to Volt drivers. The fires that sparked the investigation happened seven days to three weeks after side impact crash tests. As part of the test the vehicles were rotated upside down spilling battery coolant onto exposed wiring.
GM engineers devised additional metal structures that are being added to Volts, both on the assembly line and to cars already on the road. These structures are designed to broadly spread impact forces, reducing the risk of a coolant leak.
It was after GM announced it was making those changes that NHTSA decided to close its investigation.
But media reports had already caused confusion and concern among potential buyers, GM (GM, Fortune 500) spokesman Rob Peterson said. Which is why GM launched an aggressive marketing campaign Wednesday.
"The Volt as an innovation rather than a political punching bag," said Peterson. "That's a story that's been lost in recent weeks."
In the newspaper ads, which appeared in 19 daily newspapers, GM quotes from NHTSA's own public statement at the conclusion of the investigation.
"Based on the available data," the government's press release said, "NHTSA does not believe that Chevy Volts or other electric vehicles pose a greater risk of fire than gasoline-powered vehicles."
The Volt is powered by a large lithium-ion battery pack but has a gasoline engine to produce power for driving farther than 35 to 40 miles.
In a TV ad, which was also broadcast Wednesday, Chevrolet Volts are shown being built on an assembly down the middle of a suburban American street.
"This isn't just the car we wanted to build," a voice-over says. "It's the car America had to build."
While the Volt almost certainly won't hit the 45,000 cars sold per year that had once been projected, said Mike Omotoso, an analyst with the consulting firm LMC Automotive, that alone shouldn't be of much concern.
Since Volt sales are so small, to begin with, and GM executives have admitted that the car isn't profitable, the automaker's ad campaign will cost it more than it will ever gain from any resulting Volt sales.
Really, this is about corporate image, not just selling Chevy Volts, said Jeremy Anwyl, head of the automotive Web site Edmunds.com. GM made a big deal out of this vehicle, so the automaker needs it to succeed, irrespective of profits.
LMC analysts had already dropped 2012 sales projections for the Volt down to 30,000 and may drop it further once February sales numbers are reported, he said. But a lot of that is due to the high price of the car and concerns about having someplace to charge it, he said not fear of burning.
"The typical Volt shopper is going to be pretty technologically sophisticated," he said.
They would tend to grasp that the Volt fire risk was minimal, and certainly no greater than they would face in any ordinary car, as NHTSA, itself, indicated.
Actual damage to Volt sales would probably be minimal, Anwyl agreed.
A bigger challenge, said Omotoso, is probably the Chevrolet Cruze, GM's hot-selling compact car. It's the same size as the Volt and costs about half as much.
"Buyers are going into the dealer to look at the Volt and saying 'Should I spend $40,000 on this car or just get a Cruze that gets 40 miles per gallon on the highway?"
In time, Anwyl said, the Volt probably can succeed, he said, as the Prius hybrid ultimately has for Toyota. It will take time, though.
"You just need to get people out there who have a good experience with the vehicle and the demand just builds over time," he said.