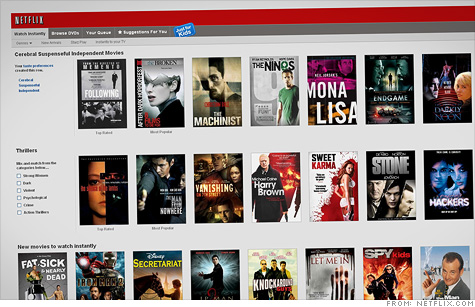 NEW YORK (CNNMoney) -- Netflix said Wednesday it began to add customers again last quarter, after a series of blunders damaged its sterling reputation with consumers and investors.
The streaming video and DVD-by-mail company said it gained a net 610,000 U.S. customers in the fourth quarter of 2011, including 220,000 streaming customers.
Netflix now has 24.4 million total customers, close to the 24.6 million it had before it angered subscribers with a 60% price hike in July, and then announced the separation of its DVD and streaming services in September. The company eventually canned the "Qwikster" plans, but not before 800,000 customers had fled Netflix.
Netflix appears to have recovered from the PR nightmare. The company said it began adding more streaming video service customers by December. Not only did last month's customer additions far outpace the company's expectations, but far fewer customers cancelled their service. Also, fewer migrated to DVD-only plans, which are more cost-intensive for the company.
Netflix said it is "tracking close" to 1.7 million net streaming customer additions for the current quarter, far more than the company had previously expected. That will also help the company keep costs under control, and profit margins will be higher than previously forecast.
Shares of Netflix (NFLX) rose 11% after hours, trading above $100. The company's stock had traded as high as $300 a share last summer, before its series of debacles sent shares falling into a tailspin.
Though the company appears to have regained the faith of its customers, serious business concerns remain. Prices of licensing new content continue to grow, weighing on profits. And the company is losing some prime content, including that of cable company Starz, which featured popular Disney (DIS, Fortune 500) titles like "Toy Story 3" and "Tangled," which currently make up about 2% of Netflix's U.S. viewing.
But Netflix responded that the quantity and quality of its streaming video selection continues to improve, and its competition remains weak. It estimated that viewing hours on Amazon's (AMZN, Fortune 500) Instant Video service and Hulu Plus each represented about 10% of Netflix's service.
The company has also made the bold bet of competing directly with cable companies by producing its own shows. Its first, "Lilyhammer," will debut next month. "House of Cards," featuring Kevin Spacey, will run in the fourth quarter, and the eagerly anticipated fourth season of "Arrested Development" will run exclusively on Netflix in 2013.
The Los Gatos, Calif.-based company said its net income fell to $40.7 million, or 76 cents per share, down 13.5% from a year earlier.
Analysts polled by Thomson Reuters forecasted earnings of 55 cents per share.
Sales rose 47% to $875.6 million, topping analysts' forecasts of $858 million.
As more DVD members quit or switch to streaming, Netflix anticipates that its overall sales this quarter will roughly match that of last quarter. That forecast still outpaced analysts' median estimates by about $30 million.
As Netflix previously announced, it expects to incur losses in each quarter of 2012, after it launched its service in the United Kingdom and Ireland earlier this month. The company believes it will lose between $9 million and $27 million this quarter, which skews slightly worse than analysts' median forecast of a $16.5 million loss.
But the company also said that those losses will get smaller as the year goes on.