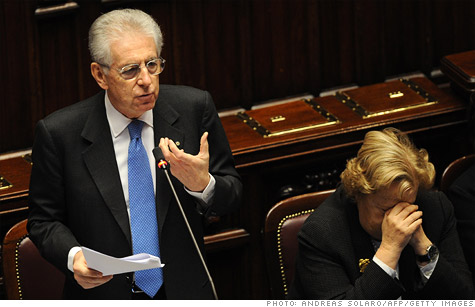 Italian Prime Minister Mario Monti. Italy was one of five eurozone countries to have its debt downgraded by Fitch on Friday.
NEW YORK (CNNMoney) -- Fitch downgraded the sovereign debt ratings Friday of five European countries, with Italy and Spain taking the biggest hit.
Italy, the third largest economy in the eurozone, had its rating cut two levels to A- from A+. Spain was cut two levels to A from AA-.
Slovenia was also cut two levels to A, while Cyprus and Belgium were each cut one notch, Belgium to AA and Cyprus to BBB-, the lowest possible level before hitting junk bond status.
All the downgraded countries remained on negative outlook, meaning they at risk of being downgraded again in the future.
Fitch also confirmed the already-weak BBB+ rating for Ireland, and said the country also remains on negative outlook.
"The intensification of the eurozone crisis in the latter half of last year...highlighted the financing risks faced by eurozone sovereign governments in the absence of a credible financial firewall against contagion and self-fulfilling liquidity crises," said Fitch's statement.