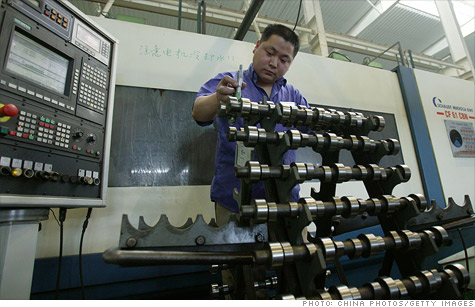 A Chinese auto parts plant in a 2005 file photo.
NEW YORK (CNNMoney) -- A coalition of labor and trade activists joined Democratic lawmakers from industrial states Tuesday to push the Obama administration to take action against the growing imports of auto parts from China.
The push to limit Chinese auto imports comes a week after President Obama announced in his State of the Union address that he was creating a trade enforcement unit to bring cases against countries, mentioning China by name.
It also comes two weeks ahead of a Washington visit by Chinese Vice President Xi Jinping, seen as likely to become president of China when Hu Jintao's term ends next winter.
Criticism of China's currency valuation and other trade practices are likely to be a point of contention between the two major trading partners at the Obama-Xi meeting, especially as the U.S. election season heats up.
Those who participated in the Capitol Hill news conference had praise for the Obama administration's rescue of General Motors (GM, Fortune 500) and Chrysler Group in 2009, as well as its past trade cases against China. (GM back on top in global sales race)
But they argued that unless there were new cases brought against Chinese parts imports that even more jobs were at risk, since 75% of those employed in the auto industry work for parts suppliers rather than the automakers themselves.
"We're very proud of the turnaround in the Big Three, but we can't sit back and celebrate their comeback as long as China unabashedly steals jobs from small businesses who make up the majority of the American automobile industry," said Sen. Debbie Stabenow, a Democrat from Michigan.
The Democratic lawmakers who spoke Tuesday came from Michigan, Ohio and Pennsylvania, all expected to be key battleground states in this November's general election.
Experts who spoke Tuesday argued that when China targets an industry, it can quickly come to dominate sales.
"If these policies are not stopped, by the end of this decade, China could seize 50% of more of our auto parts market, costing additional hundreds of thousands of U.S. jobs" said Terrence Stewart, an attorney who has won trade cases against China in the past. "The last 15 years of watching other industries will tell you that's not (just) a possibility but a high likelihood if there is not something done."
The critics say China's improper support comes in the form of direct subsidies, as well as restrictions on U.S. operations in its market. China has become the largest market for auto sales in the world, and U.S. suppliers' limited access gives Chinese parts manufacturers an unfair advantage, the critics argued.
Among those joining the presentation Tuesday were the Alliance for American Manufacturing, a trade group supported by small manufacturers and the United Steelworkers union, as well as the Economic Policy Institute, a liberal think tank, and the United Auto Workers.
But missing from the presentation were officials from GM, Ford Motor (F, Fortune 500), Chrysler or their suppliers, many of whom have their own plants in China and don't want to risk alienating Chinese officials by calling for tough trade actions.
"At this point, all the major auto parts producers are invested in China," said Robert Scott, international economist with the Economic Policy Institute. "Not only do they want these subsidies, they're afraid to complain that they will lose share in China."
China has recently imposed its own tariffs on U.S. vehicle exports to China that would significantly raise the price of any vehicles exported there. It alleges that the U.S. industry is itself benefiting from unfair subsidies.
But even though GM now sells more cars in China than it does in the United States, the Chinese duties will have little impact on its sales there, since less than 0.5% of its Chinese sales are cars built in the United States.
Asked about the move at the Detroit auto show earlier this month, GM CEO Dan Akerson refused to criticize the Chinese action against U.S. exports, saying "All countries, including the United States, have tariffs."