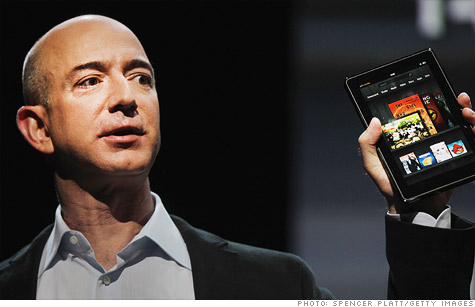 Amazon's Kindle Fire tablet went on sale November 15. The company says the Fire is its "bestselling" reader -- but never discloses sales figures.
NEW YORK (CNNMoney) -- Amazon's fourth-quarter sales results weren't awful, but investors went ahead and punished the stock severely anyway.
Amazon (AMZN, Fortune 500) earned $177 million, or 38 cents per share for the holiday quarter that ended December 31 -- more than double the 17 cents per share that analysts polled by Thomson Reuters had forecast.
But Amazon's revenue came in at $17.4 billion, missing the $18.3 billion that analysts expected.
The miss wasn't massive, but investors responded by sending the stock nearly 9% lower in after-hours trading Tuesday.
Amazon's guidance for its first fiscal quarter also came in light. The company expects net sales of between $12 billion and $13.4 billion. Analysts were looking for about $13 billion to $14.9 billion.
Amazon warned that it might lose money this quarter. It forecast its operating income in the range of a $200 million loss to a $100 million gain -- in line with its often comically wide predictions.
Kindle Fire: Amazon devoted much of its earnings release to touting its Kindle Fire, a $199 tablet-lite that went on sale November 15.
Amazon famously does not release unit sales figures for the Kindle Fire or its original Kindle e-readers. Last month, the company shed a tiny bit of light on Kindle's performance, saying: "For the third week in a row, customers are purchasing well over 1 million Kindle devices per week."
Sales of all Kindle units increased 177% over last year's holiday period, Amazon said Tuesday in its earnings release. As ever, it played coy about many units that sales bump actually represents.
Pricing the tablet at just $199 won't net Amazon a wide profit margin, but the company is willing to get tablets into customers' hands for cheap, with the goal of making money selling content like e-books, apps, videos and digital music.
Amazon hopes its low price will attract more casual customers who aren't willing to shell out hundreds of dollars for an Apple (AAPL, Fortune 500) iPad, Motorola (MMI) Xoom or Samsung Galaxy Tab.
Amazon's "spend money for scale" strategy is certainly growing its top line. The company had sales of $48 billion in 2011, up 40% from its sales the previous year. But Amazon's profits fell, dropping from $1.4 billion in 2010 to $631 million last year.
Meanwhile, one of Kindle's main rivals is in play. Earlier this month, Barnes & Noble (BKS, Fortune 500) said it is considering spinning off its Nook e-reader business. The Nook is about the only bright spot for Barnes & Noble. In the same announcement, the company slashed its fiscal 2012 guidance.