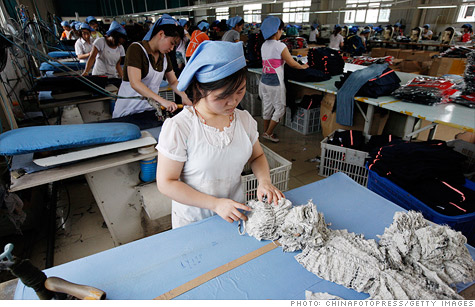 The Chinese government reported a slight increase in manufacturing activity in January.
NEW YORK (CNNMoney) -- The Chinese government said Wednesday that manufacturing in the world's second-largest economy expanded slightly in January, while a report from a leading bank indicated contraction in the sector for the third straight month.
The China Federation of Logistics and Purchasing said its index of purchasing managers' sentiment rose to 50.5 last month, up 0.2 point from December. Any reading above 50 indicates expansion in manufacturing.
The government agency said higher prices for raw materials drove much of the increase, with smaller gains in production and new orders.
However, HSBC's final reading of purchasing managers' sentiment for January was 48.8, up 0.1 point from December but still indicating contraction in the sector.
HSBC said output and new business fell in the month, leading to companies reducing their purchasing. The report also said producer costs continued to decline.
"This calls for more aggressive easing measures to support growth and employment, given that inflation is no longer a concern," wrote HSBC analysts Sun Junwei and Qu Hongbin, in their global research report.
The analysts project more weakness ahead.
"China's manufacturing sectors are set to slow further into the first quarter of this year, due to headwinds from external markets and still weak domestic demand," they said.
The analysts didn't put too much stock into "recent signs" suggesting strength in demand in domestic consumption, because that was probably a temporary blip in spending ahead of the Chinese New Year.