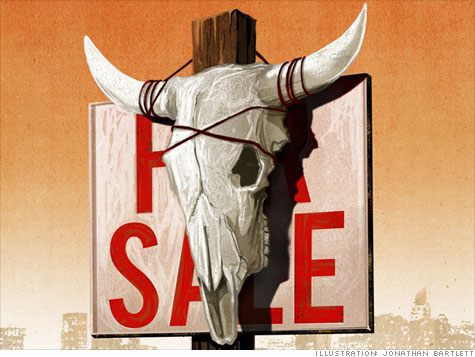 (MONEY magazine) -- Investors are racing into REITs that promise higher yields than equity REITs. But be forewarned, the higher yields of these other types of real estate vehicles come with very real risks.
Mortgage REITs
If the modest payouts of an equity REIT don't grab you, the 15% average yield of mortgage REITs -- publicly traded companies that invest in residential or commercial mortgages -- may have some appeal.
But beware: Their yields and share prices can be volatile. Despite their hefty payouts, mortgage REIT prices sank last year, leading to overall losses of nearly 4%.
Mortgage REITs act much more like a bank. They profit by borrowing money at rock-bottom rates and lending it at much higher prices, and they utilize leverage, which amplifies their performance.
"These are totally different businesses," says Peter Rothemund, an analyst at the REIT research firm Green Street Advisors. And while they pay generous dividends today, when interest rates eventually rise -- which they will -- their performance will suffer.
Non-traded REITs
Over the past decade, there's been a huge uptick in the number of REITs that own, or plan to buy, commercial buildings but that do not list their shares on an exchange. Last year non-traded REITs raised an estimated $9 billion, close to the 2007 highs, as income-starved investors were drawn to their median 6.5% yield.
But the Securities and Exchange Commission has raised concerns that these investments do not adequately spell out their real value. And FINRA, an independent securities regulatory body, recently issued an investor alert to draw attention to their risks and complexities.
Among them: In exchange for higher payouts, non-traded REITs typically tie up your money for seven years or more -- until they go public, liquidate, or merge.
Redemptions are very limited and, as investors learned during the downturn, can be halted altogether. If you need the funds during those periods, you may be approached with "mini-tender" offers, where an outsider offers to buy the shares for a fraction of what you think they're worth.
Even if you can afford to have your money tied up, upfront fees take a big bite. Most of these products are sold through advisers and brokers, who typically take a 7% cut, with another 3% landing in the pocket of the management company. So a typical $10-per-share starting price may really only be worth $9 from the get-go. Yet statements will often continue to show a $10-per-share value, until 18 months after the firm completes the offering, notes Michael McTiernan, assistant director of the SEC's real estate group.
FINRA also warns that the dividend income issued by these REITs doesn't initially come from rents, but from investor capital or borrowing (that's because these companies start buying buildings only after they've begun to raise money).
Of course, these issues aren't typically what advisers spotlight when pushing these products.
Full story: Don't rush into REITs
MONEY magazine is researching an article on ways to reduce the financial pain of college. We're looking for families that can talk about new and creative ways that they're raising cash for college and cutting costs while they're there. Sound like you? Tell us your story and you might even get your picture in the magazine! E-mail Beth_Braverman@moneymail.com.