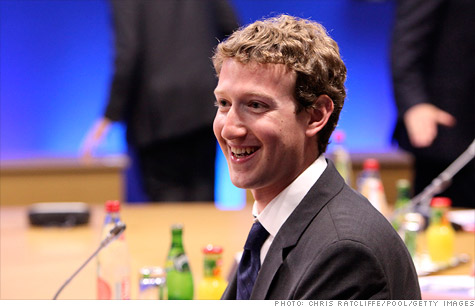 Why is Mark Zuckerberg smiling? Because he's rich.
NEW YORK (CNNMoney) -- At age 27, Mark Zuckerberg is about to officially become a paper billionaire.
In the IPO paperwork Facebook filed Wednesday, the company reported that its founder and CEO owns more than a quarter of the company. Zuckerberg holds roughly 534 million shares.
What those shares are actually worth is a question for the open market to sort out when Facebook begins trading its shares publicly later this year. But Facebook said in its IPO paperwork that its own internal valuation puts their current value at $29.73 per share.
That means Zuckerberg's stake is worth $16 billion -- enough to make him one of the 50 richest people on the planet, by Forbes' calculation.
But Facebook's valuation is fairly conservative. Analysts have ballparked the company's market value at $85 billion or more.
If that higher valuation holds up when the company goes public, Zuckerberg would be worth $24 billion or more. That'll put him in Forbes' top-10 list.
He's not the only one poised to make bucketloads on Facebook.
Accel Partners, the first major venture capitalist to fund Facebook, owns around 11% of the company. It invested $12.7 million in April 2005 and now has a stake worth roughly $6 billion, as of Facebook's last valuation.
Facebook co-founder Dustin Moskovitz owns the third-highest number of shares, with 134 million. His 8% stake in the company is worth roughly $4 billion.
The Russian venture capital group DST Global's 131 million shares -- a 5% stake -- are worth roughly $3.9 billion. And investor Peter Thiel, who put up $500,000 to get Facebook through its first summer of operations, now owns a 2.5% stake worth $1.3 billion.
Though Zuckerberg only controls a 28% stake in the company, every other major shareholder -- including Breyer, Moskovitz, DST and Thiel -- has agreed to allow Zuckerberg to act as a proxy to vote with their shares.
That gives Zuckerberg voting control over 57% of Facebook's shares. The unusual arrangement means he'll essentially have sole decision-making power over Facebook.
Most of Zuckerberg's wealth is on paper. As the dot-com boom-and-bust illustrated, paper gains can vanish fast if a company's market value plunges.
But Zuckerberg has also collected some cold, hard cash over the years. Last year, he made $483,000, took home a $220,500 bonus, and received additional perks like private jet travel valued at $783,000.
His regular paycheck is about to be slashed, though. As of next year, Zuckerberg will make just $1 a year.
He didn't receive any more stock in 2011, and likely won't get any additional stock-based compensation after the company goes public. Facebook said in its filing that the company's directors believe Zuckerberg's current stock "sufficiently aligns his interests with those of our stockholders."
Facebook's No. 2 Sheryl Sandberg is actually the most handsomely paid at the company. She took home about $300,000 last year, with a $90,000 bonus, but received $30 million in stock grants.
Sandberg owns fewer than 2 million shares now, but she is sitting on stock grant of 38 million shares that will finish vesting in April 2013. That would make her another Facebook-created billionaire.
David Ebersman, the company's chief financial officer, had the same cash bonus and salary as Sandberg, and got $18 million in stock-based compensation last year. Facebook's chief engineer, Mike Schroepfer, made a total of about $25 million last year in stock and cash, and the company's lawyer took home a cool $7 million.