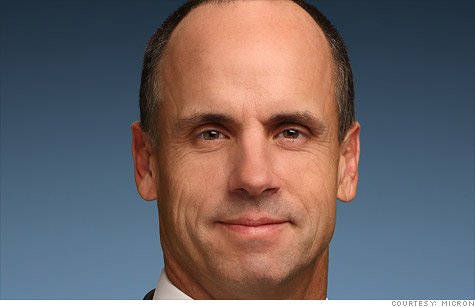 Micron CEO Steve Appleton
NEW YORK (CNNMoney) -- Micron CEO and chairman Steve Appleton died Friday morning in a small-plane crash in Boise.
Micron, a maker of semiconductors and flash memory, confirmed Appleton's death at age 51 in a press release that praised his "passion and energy."
Appleton was flying a Lancair fixed-wing single-engine plane that crashed at 8:58 a.m. local time at Boise Airport, a spokeswoman for the airport told CNN's John Fricke. She could not confirm whether the accident took place at takeoff, landing or during flight.
Shares of Micron (MU, Fortune 500), which trade on the Nasdaq, were halted on the news.
Appleton survived a previous crash in July 2004, when the stunt plane he was flying went down over an Idaho desert.
Appleton joined Micron in 1983 and held several positions at the Boise-based company. He was named president and chief operating officer in 1991, and he became chairman, CEO and president in 1994. In 2007, he shed the president portion of his title.
Appleton was known for his love of planes and for his athleticism. He held a tennis scholarship at Boise State while working towards his business administration degree. After that, he played pro-tennis on the satellite circuit for six months before diving into his career at Micron Technology.
Appleton "learned to play [tennis] left-handed after breaking his right wrist," according to the book Winner Take All by Richard J. Elkus.
Appleton sat on the board of the Semiconductor Industry Association (SIA), and the trade group awarded him its highest honor this past November.
"Steve was a visionary and a true leader in our industry. He will be deeply missed..." SIA president Brian Toohey said in a prepared statement.
Micron's press release offered condolences to Appleton's wife, Dalynn, as well as their children.
Micron was founded in Boise in October 1978, and it became a public company in June 1984. The company ranked No. 287 on the 2011 Fortune 500 list. At the end of 2011, Micron employed about 20,000 full-time staffers.
Friday's accident marks the second small-plane crash in two months that killed high-profile executives. In late December, a plane carrying two Greenhill & Co. (GHL) bankers, the wife of one of the bankers and their two children crashed on a New Jersey highway, killing all five aboard.