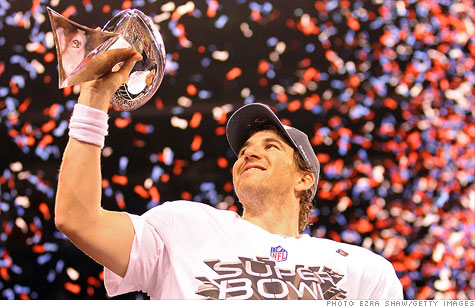 Giants' quarterback Eli Manning is poised for a big jump in his endorsement income after winning Sunday's Super Bowl.
NEW YORK (CNNMoney) -- Eli Manning is heading to Disney World. Madison Avenue will be close behind.
Experts in the field of celebrity endorsements say the New York Giants quarterback, who won his second Super Bowl on Sunday, is poised to rake in millions of dollars in extra endorsements as a result.
But that might not be enough to catch his big brother in endorsement dollars or visibility, even if Peyton Manning isn't able to return as the Indianapolis Colts' quarterback following an injury that sidelined him the entire football season.
Bob Dorfman, executive creative director at Baker Street Advertising and the publisher of the Sports Marketers' Scouting Report, said Peyton likely earns about $12 million to $13 million a year, just from his endorsements, giving him the greatest endorsement dollars of any active team sport athlete. By comparison, Eli took in about $7 million last year.
Tom Condon, who is agent to both brothers, did not return a call seeking comment for this story.
Most of Eli's national campaigns are playing second fiddle to Peyton in combined spots for products such as Kraft Foods' (KFT, Fortune 500) Oreo cookies or DirecTV (DTV, Fortune 500).
But Dorfman said that Eli is poised to finally move out from his brother's shadow on the strength of his latest Super Bowl win.
"There are several categories that are ripe for Eli to move into, categories where Peyton already is," said Dorfman, pointing to credit cards or fast foods, in which Peyton already has deals with MasterCard (MC) and Papa John's (PZZA). "I could certainly see Eli picking up another $3 million a year in deals."
Being in the New York market should also help him with regional deals, which can be very lucrative, such as the campaign he already does for Toyota (TM) dealers in the area.
Just winning the Super Bowl doesn't guarantee big endorsement dollars.
New England Patriots quarterback Tom Brady has generally declined the big endorsement deals during his career, even as he won three championships.
"There are countless athletes who don't translate on-field performance to off-field marketability," said Henry Schafer, executive vice president at Marketing Evaluations, which compiles the Q scores that advertisers use to measure celebrities' likeability rating with the public."Even when Brady was winning the Super Bowls, Peyton was the more likeable athlete."
Schafer said Eli's Q score rating climbed to near Peyton's level four years ago after his first Super Bowl win, and it's still better than last year's winner, quarterback Aaron Rodgers of the Green Bay Packers.
Rodgers, the NFL's Most Valuable Player this past season, has commercials for State Farm play on the fact that many people still don't recognize him despite on-field success.