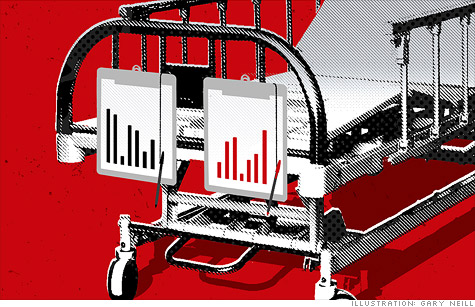 Three ways to make sure that a doctor's second opinion and a fresh perspective is worth the investment.
(MONEY Magazine) -- If you're like most people, you're inclined to trust your doctor's advice.
According to Gallup, 70% of Americans say they don't feel the need for a second opinion or extra research on a medical issue. Plus, you'll likely have to fork over bucks for the visit, especially if you're in a high-deductible plan.
Still, it's often worth talking to another doctor. In a study from the University of Michigan's Comprehensive Cancer Center, 52% of patients who had been referred for a second opinion had their treatment recommendations changed.
And let your physician know: "Someone who has your best interest in mind will welcome that conversation," says Dr. Jeffrey Cain, president-elect of the American Academy of Family Physicians.
Here's how to make the visit worth the time and money.
1. Check your coverage
First, call your insurer; in many cases, second opinions are covered like any other doctor's visit, says Kathleen Stoll, deputy executive director of the advocacy group Families USA, although you may have to get a new referral from your primary-care physician.
Some insurers even require a second opinion for costly or rare procedures to prove that the treatment is necessary.
If your insurer won't pay, appeal with a letter from your doctor that addresses the specific reason for the denial, says Erin Moaratty, a spokeswoman for the Patient Advocate Foundation.
2. Find the right doctor
Always ask your primary-care physician for the names of two in-network specialists, says Stoll. And ask for doctors who work in different hospitals: "It tends to be groupthink within one hospital or department," says Dr. Jerome Groopman, co-author of "Your Medical Mind: How to Decide What Is Right for You."
If you're not confident in your physician's recommendations, call your nearest hospital that's affiliated with a medical school and ask for a referral for a physician who handles a high volume of patients with your condition, says Dr. Robert Klitzman, a professor of clinical psychiatry at Columbia University and author of "When Doctors Become Patients."
3. Get your papers in order
Before the appointment, check with the second physician's office to see what information you need to bring to your visit. Even if your insurer covers the appointment, it is unlikely to pay for duplicate tests, so get copies of all diagnostic results and any imaging film. Request your medical records with your doctor's notes as well.
If the second opinion is very different from the first, ask your original doctor what he or she thinks -- perhaps the second doctor was missing information, or a recommended treatment is similar to something you've already tried. Still a conflict?
A third opinion is an option -- after all, it's your health at stake.
MONEY magazine is researching an article on ways to reduce the financial pain of college. We're looking for families that can talk about new and creative ways that they're raising cash for college and cutting costs while they're there. Sound like you? Tell us your story and you might even get your picture in the magazine! E-mail Beth_Braverman@moneymail.com.