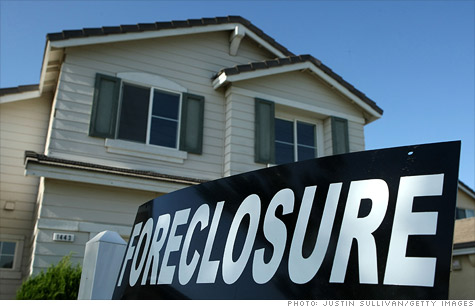 NEW YORK (CNNMoney) -- Slowly, but surely, the foreclosure crisis seems to be abating.
The number of homes in foreclosure shrunk by 130,000, or 8.4%, in 2011, according to a report from CoreLogic, an economic research firm.
These are homes owned by borrowers who had slipped far behind on payments, forcing lenders to put them into the foreclosure process. The homes remain foreclosure inventory until they're sold -- either at auction or in a short sale, which is when a home is sold for less than the mortgage value -- or until homeowners are current again on payments.
There are dual reasons for the inventory drop, according to Mark Fleming, chief economist with CoreLogic.
"The pace at which properties are entering foreclosure is slowing," he said. "And servicers nationwide stepped up the rate at which they were able to process distressed assets."
In recent years, homes have entered foreclosure more slowly because lenders are carefully scrutinizing applicants; only very low-risk borrowers get loans. That, plus a gradual improvement in the economy, means fewer borrowers are getting into trouble.
Even borrowers in default are not going into the foreclosure process as quickly as they used to. They're being held up by a variety of judicial and regulatory constraints, according to Fleming.
For one thing, the robo-signing issue, in which banks filed sloppy and sometimes improper paperwork, made lenders more cautious about getting their paperwork in order before beginning to process foreclosures.
Once the banks do put homes into foreclosure, they're trying to speed them through it faster. One way they've done that is by encouraging short sales.
Another is that they've stepped up their foreclosure prevention efforts -- often with the aid of numerous government programs such as Home Affordable Modification Program, which the government claims has helped a million Americans keep their homes.
Post-foreclosure
After foreclosures are completed and the homes are back in the hands of their lenders, the homes are being sold very quickly.
"This is the first time in a year that REO sales [those of bank-owned properties] have outpaced completed foreclosures," said Fleming.
In December 2011, there were 103 sales of bank-owned homes for every 100 homes in foreclosure inventory. That was up considerably from November 2010, when there were only 94 REO sales for every 100 in the foreclosure process.
Florida has the dubious distinction of recording the highest foreclosure inventory in the nation in December, with more than 17% of homeowners seriously delinquent and nearly 12% of homes with mortgages in foreclosure inventory
The inventory in Florida is bloated because, as in more than half of all the states, most foreclosures have to go through the courts.
Courts have taken a much closer look at the cases coming before them, no longer taking the bank's word for everything.. Consequently, it takes a longer time to schedule an auction, which keeps many homes trapped in the foreclosure pipeline.
A hard-hit state such as Nevada, which has had the highest incidence of delinquency in the nation but where most foreclosures do not go through he courts, posted a foreclosure inventory rate of less than half that of Florida.