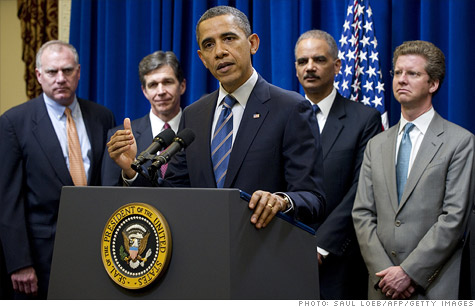 President Obama, joined by state attorneys general and cabinet officials, discuss the $26 billion settlement with leading mortgage lenders.
NEW YORK (CNNMoney) -- The $26 billion mortgage settlement had a lot of support -- as evidenced by the 49 out of 50 state attorneys general that signed on to it.
The deal, which was announced Thursday, also won praise from groups as diverse as the Mortgage Bankers Association, the industry trade group for lenders, and the Center for Responsible Lending, a public interest group advocating for borrowers.
But it also has its share of critics on both the left and the right.
Conservatives called it overreaching on the part of the Obama administration, and say it rewards homeowners who haven't been paying their home loans.
Some liberal groups say it falls far short of providing the needed level of help to troubled homeowners hurt by the housing bubble, problems they blame on Wall Street banks and investors. They want more relief for homeowners who owe more than their home is now worth, also known as being underwater on a mortgage.
The settlement was reached with the five largest mortgage servicers -- Bank of America (BAC, Fortune 500), JPMorgan Chase (JPM, Fortune 500), Citigroup (C, Fortune 500), Wells Fargo (WFC, Fortune 500) and Ally Financial.
The conservative case against the deal was voiced most clearly by Oklahoma Attorney General Scott Pruitt, the only state attorney general who didn't sign onto the deal. He blamed President Obama for using the settlement to try to "fundamentally restructure the mortgage industry."
Pruitt argues that it's unfair that those who are both underwater and delinquent on their loans can apply to reduce the amount they owe. Meanwhile, underwater homeowners who are current in their payments can only refinance their existing loan at a lower interest rate.
He said that could encourage more homeowners to default on their loans so they could benefit from the settlement.
Other critics of the Obama administration said the fact that the settlement will be able to help only a small percentage of troubled homeowners raises other questions about fairness.
"Certain favored borrowers will be receiving a bailout while everyone else's home values will stay underwater," said Bill Wilson, president of Americans for Limited Government. "The impact will be minimal, so the question becomes, who's getting a bailout and what makes them so special?"
There are an estimated 11 million underwater homeowners, according to CoreLogic, and nearly 3.5 million homeowners who are either 90 days or more late in making payments or are in foreclosure, according to the Mortgage Bankers.
According to the settlement, up to 1 million homeowners could see their principle reduced, while another 750,000 could refinance.
Many on the left are also dismayed by the fact that relatively few troubled homeowners will get help.
One liberal public interest group, The New Bottom Line, said it wanted a $300 billion settlement that significantly reduced what homeowners owed. It called Thursday's deal a "paltry down payment."
It also criticized the payments of up to $2,000 that will be made to many who lost their homes in the foreclosure process in the last three years.
"For homeowners who were defrauded and lost their homes, $2,000 is too little, too late," said the group's statement.
Still, the settlement is a step in the right direction, said Tim Lilienthal, the lead organizer for PICO National Network, one of the groups that makes up The New Bottom Line.
"The true measure of this deal is what happens next," he said. "We need to keep the pressure on."
The federal and state officials that announced the deal Thursday vowed this will not be the end of the process.
Iowa Attorney General Tom Miller, who helped lead negotiations with the banks, said he believes once this program is up and running, it will prompt banks to start making principal reductions on their own beyond the terms of the settlement. He says banks will discover that they can recoup more money this way than they have through the foreclosure process.
"All the things they're worried about -- the sky is falling arguments about principal reduction -- guess what, it won't happen. At that point, principal reduction will become a regular, common tool," he said. "Principal reduction is an effective way for everybody to win."