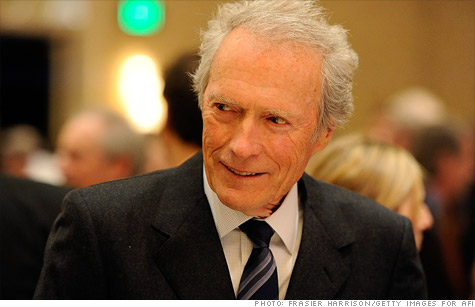 Give that fistful of dollars back to the Treasury.
NEW YORK (CNNMoney) -- Clint Eastwood is better known for playing '"Dirty Harry" and other hyper-masculine tough guy characters than holding nuanced public policy positions. But the actor is now throwing his weight behind a plan to reduce the country's massive deficits.
Eastwood said Friday he "absolutely" favors giving the Simpson-Bowles deficit reduction plan a second look.
What is Simpson-Bowles?
It's the debt reduction plan put together by Alan Simpson and Erskine Bowles, who served as co-chairmen of President Obama's fiscal commission.
Overall, their plan would reduce the country's accumulated debt to 40% of the overall economy by 2035, down from the 185% currently projected.
To get there, the plan recommends that spending not exceed 21% of gross domestic product. It listed specific government programs to cut, and recommends an overhaul of the tax code.
And Eastwood is a fan.
"The last couple regimes have put us deep in the hole," Eastwood said during an interview on CNBC.
"It's such a basic thing," Eastwood said. "Your parents always tell you when you don't have a dollar in your pocket, you don't spend two dollars. And that's kind of a basic philosophy of life."
The star actor and director lay some of the blame for the plan's initial failure at the foot of the Obama administration.
"I don't know why the current administration assigned them to it if they weren't going to pay any attention to it," Eastwood said. "If you're just waiting for people to tell you what you wanna hear, they can always get people to do that."
The comments come just a few days after Eastwood drew quite a bit of attention for appearing in a Chrysler Super Bowl commercial that some thought was overtly political.
"It's halftime," Eastwood said in the ad. "Both teams are in their locker rooms discussing what they can do to win this game in the second half."
"It's halftime in America, too," continued the 81-year-old producer and director. "People are out of work, and they're hurting. And they're all wondering what they're gonna do to make a comeback."
Eastwood has since said the ad was not meant to be political.