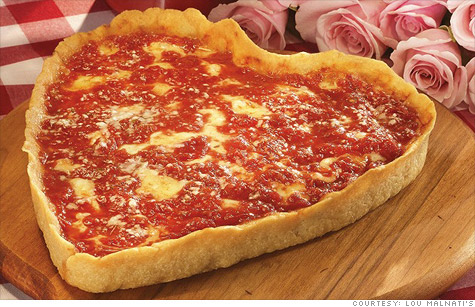 As Google searches for heart-shaped pizzas soar this year, Chicago pizzeria chain Lou Malnati's is helping strike love connections nationwide on Valentine's Day with its special "love" pizza.
NEW YORK (CNNMoney) -- Candy, flowers and bling may dominate Valentine's Day gifts, but this year, one more item is likely to be among the love offerings: heart-shaped pizzas.
Searches on Google for "heart-shaped pizzas" have soared 230% since January, according to Google's (GOOG, Fortune 500) research tool Insights for Search.
And the highest number of searches for heart-shaped pizzas over the past few weeks is coming from Illinois, Texas and California, according to Google.
The novelty pizza has easily been around for decades but lately, pizza sellers -- large and small -- have been rushing to capitalize on this quirky trend, especially around Valentine's Day.
Pizza chain Papa John's (PZZA) sold 60,000 heart-shaped pizzas in 2010, and a little bit more than 60,000 last year. It expects to sell 75,000 this year.
"We first offered them nationally three years ago, and they've become widely popular," said Papa John's spokeswoman Tish Muldoon, adding that the company debuted them again last week.
"They're popular with families who celebrate Valentine's Day together," she said.
The traditional deep-dish pizzas at Lou Malnati's, a family-run pizzeria chain in Chicago, already sell well on any given day.
But weeks before Valentine's Day, their heart-shaped pizza becomes the favorite with Chicagoans and consumers nationwide.
"Valentine's Day is now our second-busiest event behind the holiday season," said Meggie Eck, marketing manager for the 41-year-old family-owned Lou Malnati's.
She credits Rick Malnati, the founder's son, with coming up with the idea 22 years ago.
Rick, a basketball coach at Loyola University, thought it would be clever to create a heart-shaped pizza and initially tried to make it with a cookie cutter, said Eck. Eventually, he found a heart-shaped pan, and those pans are still used today.
People "eating in the restaurants quickly grew to look forward to the heart-shaped pizzas each year," said Eck.
Now, 22 years later, Lou Malnati's heart-shaped pizza has a loyal following in Chicago and nationwide. Google said searches for the pizza chain's novelty pizza are up 95% over the past two years.
All of Lou Malnati's 33 locations in Chicago serve the $9.45 special 9-inch plain cheese heart-shaped deep-dish pizza on Feb. 14.
The company's also been shipping the frozen variety since 1991.
Today, a single frozen Lou Malnati's heart-shaped pizza costs $42.99, including shipping. A "2 pack," one frozen heart-shaped pizza and one frozen original pizza, is $57.99 with shipping.
"Last Valentine's Day, we saw a 10% growth in [heart-shaped] pizza sales from 2010," said Eck. The company expects to see similar growth this year.
This year, Lou Malnati's had its heart-shaped pizzas ready for shipping on Feb. 1, although it expects to ship the majority of its "love" pizzas between Feb. 6 and Feb. 13.
Looking at the orders coming in, Eck thinks the heart-shaped pizzas will outnumber their other pies, such as cheese and pepperoni, which will also be shipped this month.
So far this year, "51% of all our pizzas we've shipped have been heart-shaped pizzas," she said. The most orders for them are coming from customers in California, Texas, Florida and California.
And most deliveries are being made to addresses in California, Florida, Illinois, Texas and Arizona, she said.
"We will be able to ship [on] Monday for Valentine's Day delivery on Tuesday, which we hope [will] boost sales," she said.