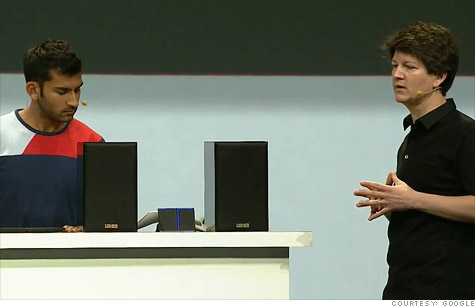 Google's head of Android@Home, Joe Britt (right) showed off a prototype of the company's new cloud entertainment device at its developers conference in May 2011.
NEW YORK (CNNMoney) -- The tech world is all abuzz about Google's mysterious new "entertainment device."
Nicknamed "Project Tungsten," the device serves as a music hub that connects to speakers or a home stereo. Running Google's Android operating system, the device can play digital music files stored online at Google Music or on assorted devices.
The device can be powered by a smartphone or tablet, and multiple devices can be linked to simultaneously play music on speakers throughout a house.
Google (GOOG, Fortune 500) unveiled a prototype of the device at its I/O developers conference in San Francisco last May. Joe Britt, head of Google's Android@Home connected device team, called the gadget "a totally new kind of Android device."
Britt also demonstrated another Tungsten device that was able to read RFID (radio-frequency identification) tags embedded in CD cases. If a user had uploaded that CD to his or her Google Music digital locker, the device would automatically begin playing that album.
At the time, Google described the devices as concepts and not actual products. But Google filed an application with the Federal Communications Commission last week to test "an entertainment device" over home Wi-Fi networks. It was the first indication that Google is actually developing the product it showcased eight months earlier.
According to the filing with the FCC, Google's device will be able to connect to stereo systems and other devices via Bluetooth. The application did not reveal any other specifics about the device.
Several media reports indicated that Motorola Mobility (MMI), the hardware company that Google is buying, is building the device. Google's $12.5 billion purchase of the company is expected to be completed next week. Google did not immediately respond to a request for comment.
Becoming a maker of consumer devices pits Google even more squarely against Apple (AAPL, Fortune 500), which also sells connected entertainment devices that interoperate with its iPhone, iPad, iPod and Macintosh devices.