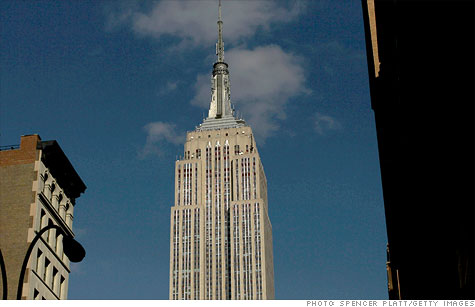 NEW YORK (CNNMoney) -- Soon you could become an owner of one of the world's most iconic skyscrapers.
Malkin Holdings LLC, which controls the Empire State Building, filed Monday for an initial public offering for a real estate investment trust (REIT) for the building, along with two other Manhattan properties it controls, One Grand Central Place and 250 West 57th Street.
The filing puts the estimated value for the Empire State Building at $2.5 billion, while the other two properties are worth about $1 billion between them. The target range for the price of the REIT shares has not yet been set with Monday's filing.
Malkin Holdings already held a long-term lease on the Empire State Building when it bought the title to the building itself from real estate magnate Donald Trump and his partners for $57.5 million in 2002.
The filing said Malkin has engaged in substantial modernization of the building in the 10 years it has owned the Empire State Building, and that it intends to spend between $175.0 million and $215.0 million more by the end of next year as part of that program.
The 81-year old skyscraper was the world's tallest building until the completion of the World Trade Center in 1973.
It became the city's tallest building once again with the destruction of the World Trade Center in 2001. It attracts about 4 million visitors a year to its observation deck, according to the filing.
The building played a central part in many movies, most famously "King Kong," "An Affair to Remember" and "Sleepless in Seattle."