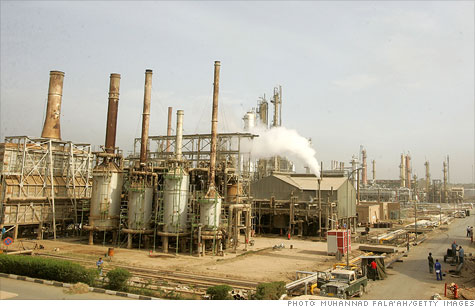 Exxon Mobil won't be able to bid in the next round of Iraqi oil exploration contracts because of a deal it has signed with the Kurdish regional government.
BAGHDAD (CNNMoney) -- Exxon Mobil is being shut out of bidding on the next round of oil and gas exploration contracts in Iraq because of its decision to sign an exploration deal with Kurdistan's regional government in the northern part of that country.
Iraq's decision, confirmed by a spokesman for Deputy Prime Minster for Energy Hussein al-Shahristani on Monday, is not a surprise.
Iraq has plans to increase its oil production capacity to about 12 million barrels a day by the end of 2017 from current capacity of just over 3 million barrels a day. But so far it has not been willing to share the profits with the western oil companies doing business in Iraq, limiting their take to about $2 a barrel, no matter the market price, said Fadel Gheit, oil analyst with Oppenheimer.
Gheit said the fact that Exxon Mobil (XOM, Fortune 500) made a deal with the Kurds, essentially walking away from bidding on further Iraqi contracts, could just as much be seen as the company sending a message to Iraq as it is Iraq taking a hard line with Exxon Mobil.
A couple of years ago, the newly formed Iraqi government began awarding big contracts to the world's major oil companies including France's Total (TOT), England's BP (BP), China's CNPC and Russia's Lukoil, as well as Royal Dutch Shell (RDSA), Occidental (OXY, Fortune 500), and Marathon (MRO, Fortune 500), in an effort to boost its nascent production.
"Nobody is making money there," Gheit said. "They all hope to make a lot of money, but so far they have seen only the appetizer, not the full meal." Other companies might follow Exxon's lead, he said.
Iraqi opposition to anyone striking a separate deal with the Kurds to explore for oil in the semi-autonomous region was already well established. But the Iraqi central government has yet to finalize an oil law establishing how the oil royalties will get divvied up. The Kurds are known to be offering terms that are more generous to foreign oil firms.
Deputy Prime Minster for Energy Hussein al-Shahristani told CNN earlier this month that Exxon Mobil's agreement with the Kurds would be a deal breaker for any other western oil company.
"We really want to see Exxon works in Iraq , it's the largest oil company and they can do a lot to develop Iraqi fields," said said al-Shahristani in that earlier interview. "However, it is more important to abide by the Iraqi laws and they've been told that in a very clear terms and they are aware of our options."
Exxon Mobil has not yet commented on the controversy related to the Kurdish contracts, and the company did not have an immediate reaction to the news out of Baghdad Monday.
Monday's decision comes as Iraq battles to increase its oil exports which have been hurt by limited capacity to move oil overseas.
On Sunday, the Iraqi government announced the inauguration a new offshore oil terminal in the al-Faw port south of Basra, with a capacity of 900,000 barrels per day. Iraq plans three more of the terminals by the end of this year.
Shares of Exxon Mobil were slightly higher in early-afternoon trading Monday.
-- CNNMoney's Steve Hargreaves contributed to this report.