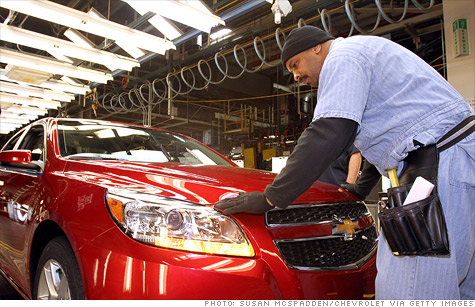 General Motors is switching senior salaried workers from a traditional pension to a 401(k) plan, but hourly workers are not affected.
NEW YORK (CNNMoney) -- General Motors has shifted its senior salaried workers away from a traditional pension plan to a 401(k) plan, said a company spokeswoman on Wednesday.
GM (GM, Fortune 500) froze its defined benefit pension plans for 19,000 U.S. salaried workers and shifted them to a 401(k) plan, said GM spokeswoman Lynda Messina.
These 19,000 workers were hired before 2001, when the automaker was using the traditional pension plan. The pension plan is not eliminated. Instead, it is frozen, so whatever funds were put into it until now will be received upon retirement.
GM said its pension plan was underfunded. The automaker said it would release more details on that Thursday.
The automaker said that part of its incentive for switching the plan to a 401(k) is to transfer investor liability from the employer to the employee.
GM said it is also improving the formula for annual bonuses and also adding a week of vacation.
The 7,000 salaried workers hired since 2001 aren't affected, since they never had the pension plan, anyway. They were already on the 401(k) plan.
Now, all 26,000 U.S. salaried workers will get some kind of contribution into their 401(k) plans whether or not they make their own contribution.
This change in pension plans does not affect hourly factory workers.
GM earnings come out Thursday and the automaker is expected to report record net income. But despite that profit number, it missed some internal financial targets, which will hurt bonuses paid for 2011.
This will mark the first year since 2004 that all three major U.S. automakers will be profitable at the same time.
Ford Motor (F, Fortune 500) has already reported its biggest profit since 1998. In fact, 2011 was the second most profitable year in Ford's history.
Chrysler Group reported its first annual profit since 2005, capping a comeback a little more than two years after a federal bailout, a bankruptcy filing and a takeover by Italian automaker Fiat.