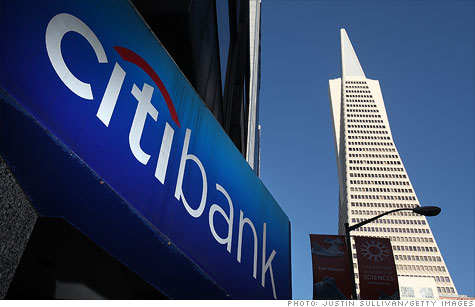 Citi has participated in the FHA's Direct Endorsement Lender program since 1981.
NEW YORK (CNNMoney) -- Citigroup will pay $158 million to settle charges that its mortgage unit defrauded the Federal Housing Administration by inaccurately claiming that certain mortgages were eligible for government insurance, government officials announced Wednesday.
Under the FHA's Direct Endorsement Lender program, lenders like Citi's CitiMortgage division can submit certain loans for government insurance in case a borrower defaults. Lenders are required to maintain their own quality-control programs to ensure that loans submitted for such insurance have been prepared properly and without any evidence of fraud.
Citi, however, repeatedly obscured or downplayed problems with loans submitted for insurance over the past decade, the Manhattan U.S. Attorney's Office said Wednesday. The firm ignored roughly 1,000 cases of potential fraud and failed to verify information on borrowers' ability to make payments, according to the complaint in the case.
Of the 30,000 mortgages Citi (C, Fortune 500) has endorsed for FHA insurance since 2004, more than 30% have defaulted, including 47% of those originated in 2006 and 2007. The government has already paid out nearly $200 million in claims on these loans, a "substantial percentage" of which should never have been eligible for insurance, the complaint says.
Federal officials brought similar cases in relation to the FHA insurance program last year against Deutsche Bank (DB) and Allied Home Mortgage Corporation.
"This settlement demonstrates that lenders are held accountable to strict underwriting standards," David Montoya, inspector general for the Department of Housing and Urban Development, said in a statement.
"We are committed to aggressively pursuing those whose misconduct contributed to the housing crisis and those who flagrantly continue to do so."
The case is distinct from the nationwide settlement announced last week in which Citi and four other large lenders committed $26 billion to help underwater homeowners and compensate those who lost their homes due to improper foreclosure practices. Also involved in that settlement were Bank of America (BAC, Fortune 500), JPMorgan Chase (JPM, Fortune 500), Wells Fargo (WFC, Fortune 500) and Ally Financial.
"We are pleased to resolve this matter in conjunction with the National Mortgage Settlement reached last week," Citi spokesman Mark Rodgers said in an email. "We take our quality assurance processes seriously and have pro-actively undertaken process improvements to ensure that they are as robust as possible."
Citi admitted responsibility for failing to comply with the insurance program as part of the settlement, which was approved by U.S. District Judge Victor Marrero on Wednesday.