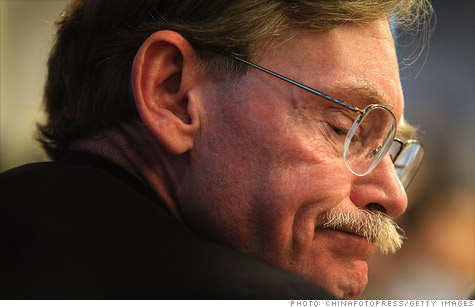 Robert Zoellick, who will step down as president of the World Bank on June 30.
NEW YORK (CNNMoney) -- Robert Zoellick plans to step down from his post at the head of the World Bank when his current term ends on June 30.
Zoellick, 58, informed the bank's board of his decision on Wednesday. The World Bank, a multinational organization, provides financial assistance to developing countries -- $247 billion during his five-year term.
"I'm honored to have led such a world-class institution," he said in his statement. "When the world needed the bank to step up, our shareholders responded with expanded resources and support for key reforms that made us quicker, more effective and more open." (The world's 10 largest economies)
The bank said it had its first general capital increase in more than 20 years under Zoellick's term. He emphasized that the bank's health made it a "natural time to move on."
Zoellick previously served as international vice chairman at Goldman Sachs (GS, Fortune 500) and in various government positions, including U.S. trade representative. He was also an executive vice president of Fannie Mae from 1993 to 1997.
The World Bank and the International Monetary Fund were the two major multinational organizations started in the wake of World War II to provide assistance and economic stability to troubled nations in an effort to help maintain global economic growth.
Zoellick is the 11th head of the World Bank since its founding in 1946. Historically, the World Bank has been headed by an American, while the IMF has been headed by a European.
But last year, when the IMF was looking for a new managing director, there were calls for a non-European in the position, due to the IMF's role in backstopping emerging economies. Given the World Bank's similar focus, there could also be a push for a non-American as its next president.
Despite those calls, French finance minister Christine Lagarde won the IMF job, which opened up due to Dominique Strauss-Kahn's resignation in the wake of sexual assault charges that were later dropped.