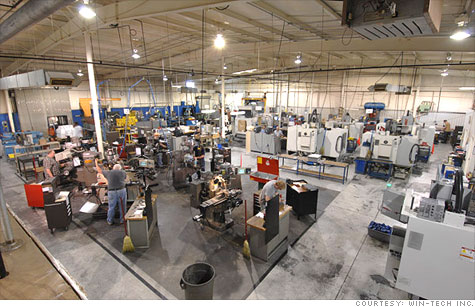 U.S. factories are enjoying a pickup in business and jobs are available. But many are facing a perplexing situation -- a dearth of skilled manufacturing workers in America.
NEW YORK (CNNMoney) -- U.S. factories are creating many new jobs. But owners are hard pressed to find skilled American workers to fill them.
There is a "critical shortage of machinists," a common and crucial position in factories, said Rob Akers, vice president at the National Tooling and Machining Association. "Enrollment in this field in technical schools has been down for a long time."
The problem comes at a terrible time. Domestic contract manufacturers -- known as "job shops" -- are seeing a boom in business.
In the case of Win-Tech, a Kennesaw, Ga., manufacturer, orders are coming in fast and furious from its customers in the defense and aerospace industries.
But the company's owner Dennis Winslow is more concerned than elated.
Winslow's been trying to add 12 more workers to his staff of 42 to meet the increased demand, but he's struggling.
"I'm facing a real conundrum," he said. "There are so many unemployed people in the country. But I can't find the skill sets that I need. I would hire tomorrow if I could."
For more than a year, Winslow has been looking for manual machinists, quality control inspectors and machinists trained to use computer-controlled systems.
He's advertised the jobs locally as well on popular online recruiting websites, such as Monster.com (MWW).
He said he may be forced to hire people who are not fully skilled, and then train them.
"I am coming to the conclusion that this [situation] has become the new normal," said Winslow. "Being a machinist once was considered a respectable trade. But young Americans just don't consider manufacturing to be a sexy vocation."
He noted that most people possessing the skill sets he needs today are baby boomers, many of whom work at his factory.
As the United States outsourced its manufacturing jobs over the last few decades, the country lost a significant chunk of its manufacturing talent pool, said Mitch Free, CEO of MFG.com, an online directory that matches businesses with domestic manufacturers.
"Now, as manufacturing is slowly coming back, we just don't have this talent quickly available," said Free, a machinist by training.
Every factory needs a machinist to operate it, whether it's to operate machines or to create machine parts. And machinists also create molds and casings to make plastic parts that are used in everyday products, such as computers and cell phones, said Free.
It takes about a year in trade school to become a machinist, followed by a few years of apprenticeship at a manufacturing facility, said Free.
Machinists make about $60,000 a year. But with many logging overtime lately, Free said that income can get close to $100,000 a year.
"This is also a highly technical craft," he said. "It requires knowledge of computers, programming, even geometry. You can't hire someone off the street and turn them into a machinist."
Mark Engelbracht, owner of Omni Machine Works in Covington, Ga., is trying to hire just three new machinists. He, too, is having a hard time, a situation that will worsen as his older machinists retire.
"Finding more work isn't the problem for our business," he said. "Getting the worker is becoming a problem."
Omni Machine Works makes parts used by machines that manufacture consumer products, such as tires and phone plates. "But we're also a job shop. So we do a little bit of everything," he said.
Engelbracht has hired headhunters and temp agencies to fill the slots, but has had no luck. He's now thinking about starting an in-house apprentice program to train hires himself.
"I've been trying to hire for a year," he said. "It's not that people aren't applying. But many are claiming to be machinists when they aren't exactly."