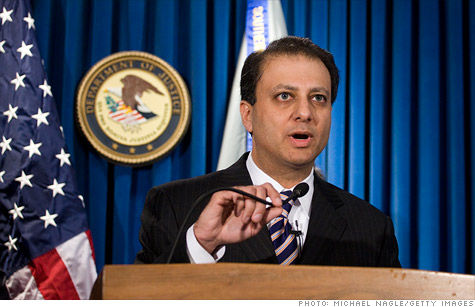 Preet Bharara, the U.S. Attorney for the Southern District of New York, who filed new charges Friday in the ongoing probe of insider trading.
NEW YORK (CNNMoney) -- Technology analyst John Kinnucan was arrested Friday on allegations of trading on information about many of the nation's leading tech companies, resulting in illicit gains of nearly $110 million.
Kinnucan faces both criminal and civil charges. He was arrested at his Oregon home and is awaiting transfer to New York, according to the U.S. Attorney's office for the Southern District of New York, which is conducting an ongoing probe into insider trading. The Southern District includes the nation's major stock exchanges and is taking the lead on insider trading probes nationwide.
In January, seven hedge fund managers and investment professionals were indicted in New York, charged with sharing insider information when making trades. Last year, Raj Rajaratnam, founder of the Galleon Group hedge fund, was found guilty and sentenced to 11 years in prison and fined a record $92.8 million. The SEC alleges the Galleon case resulted in $91 million in illicit gains, less than in Kinnucan's case.
The Securities and Exchange Commission alleges that Kinnucan befriended and rewarded insiders at various technology companies, including Apple (AAPL, Fortune 500), Dell (DELL, Fortune 500), Fairchild Semiconductor (FCS), Marvell Technology (MRVL), and Western Digital (WDC, Fortune 500), in order to gain information, which the SEC claims he then sold to clients, primarily portfolio managers and analysts at prominent hedge funds and investment advisers.
"The information he obtained and passed along to clients was not the result of research. It was inside information Kinnucan bought from company insiders," said Janice Fedarcyk, FBI assistant director-in-charge. "That kind of information beats research every time. The only problem is it isn't legal."
In late 2010, Kinnucan took the unusual step of announcing on TV and in an e-mail to clients that he had been contacted by FBI agents, whom he mocked as "fresh-faced eager beavers."
He said he was approached at the end of October 2010 and asked to wear a wire in an insider-trading investigation targeting certain hedge funds. He shut down his Portland, Ore.-based firm, Broadband Research Corp., soon after that disclosure. Kinnucan and members of his former firm could not be reached for comment Friday.
The U.S. Attorney's office and the SEC would not comment on Kinnucan's actions in 2010.