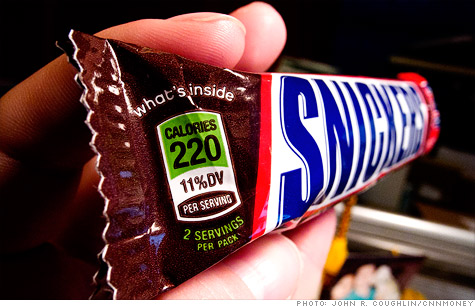 Mars is cutting back the portions on its Snickers bars to no more than 250 calories. So the King Size has been transformed into the 2toGo, two separate nuggets at 220 each in one package.
NEW YORK (CNNMoney) -- The end is nigh for the Snickers bar as we know it.
Mars is discontinuing its King Size Snickers bar, and even the traditional 2-ounce version of the chocolate bar is headed for the chopping block, as the venerable candy company pares down its products in the face of America's obesity epidemic.
The company has replaced the King Size Snickers with the so-called "2toGo," which is two bars in one package. Each of the bars is 220 calories. The company said the package can be resealed "to save one for later."
Mars also said it's putting the kibosh on chocolate bars that exceed 250 calories by the end of 2013. That means the days are numbered for its traditional 2.07 ounce chocolate bar, which weighs in at 280 calories.
The candy maker sees reducing portions is a way to help fight obesity in America -- adopting the tone often heard from makers of other products facing health experts' scrutiny such as alcohol and tobacco.
"Mars chocolate products should be enjoyed in moderation as part of a healthy and well-balanced lifestyle," said the M&M producer in a statement.
More than one-third of U.S. adults, and about 17% of all children and young adults, are obese, according to the Centers for Disease Control. The prevalence of obesity among children has tripled since 1980.