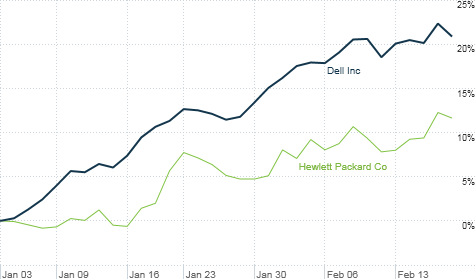 "Old" tech firms Dell and HP are off to a great start in 2012 even though they still face many challenges and questions about growth.
NEW YORK (CNNMoney) -- Apple continues to be the market darling as investors eagerly anticipate more news about the iPad 3, and perhaps a dividend. The stock is up 24% in 2012.
The excitement about Facebook's IPO continues to build too, with the possibility of a $100 billion valuation garnering a lot of attention.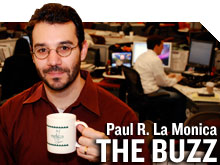 But while new tech (Apple may have been around for decades, but it's clearly still innovating and acting more like a startup) is all the rage, don't shed any tears for the old guard of the sector.
Shares many of tech's geezers are doing almost as well -- and in one case, even better -- than Apple (AAPL, Fortune 500) this year.
The yin to Apple's yang, Microsoft (MSFT, Fortune 500), is up more than 20% already this year. Investors have high hopes for the company's upcoming Windows 8 operating system, which some analysts think could be Microsoft's biggest hit since Windows 95. Microsoft is also benefiting from strong sales of Its Xbox consoles and motion-controlled Kinect gaming system.
Other key passengers on the Microsoft gravy train, such as chip leader Intel (INTC, Fortune 500) and PC giant Hewlett-Packard (HPQ, Fortune 500), are off to a hot start too.
Intel's shares have gained more than 10% as the company touts (yet again) its mobile strategy. And HP, while still way off its 52-week high, is slowly recovering from the brief but disastrous Leo Apotheker era. New CEO Meg Whitman is enjoying a honeymoon period with Wall Street. HP is up 16%.
Networking equipment giant Cisco Systems (CSCO, Fortune 500) has also bounced back after a tough 2011, during which it killed off the Flip video business and announced layoffs to cut costs.
Cisco stock is up 12% this year. The company boosted its relatively new dividend this month and is getting praise from investors for fighting back against aggressive competition in its bread-and-butter routers and switches business.
Then there's Dell (DELL, Fortune 500). The hardware company is the one I was referring to earlier that's actually outperformed Apple. Shares are up 25% this year as investors bet that its turnaround will continue. The company has shifted its focus to higher-growth areas like storage.
There's a case to be made that these stocks should keep rallying. All of them are reasonably priced, trading in a range of 7 times earnings estimates for HP to 12 times fiscal 2012 profit forecasts for Microsoft.
"At these valuations, you don't need that much growth. If you get any growth they should do okay because the expectations are so low," said Mark Oelschlager, manager of the Pin Oak Equity (POGSX) and Red Oak Technology Select (ROGSX) funds in Akron, Ohio. Oelschlager owns Dell, Cisco, HP and Intel in Red Oak and Microsoft in Pin Oak.
But where will these and other tech graybeards --IBM (IBM, Fortune 500), Qualcomm (QCOM, Fortune 500) and EMC (EMC, Fortune 500) are all trading near 52-week highs -- really go from here?
The simple answer is that the companies that are still tied more heavily to the PC nag than the tablet thoroughbred (HBO's "Luck" is awesome, even if you don't play the ponies ... or work for Time Warner) may have a tougher time building on these gains.
HP and Dell may be cheap -- Dell trades for only 9 times earnings for this fiscal year -- because there are still so many questions about their future. Neither company has what could be described as a cohesive mobile strategy that can help it in the fight against Apple.
Both companies report their earnings next week, and the results are likely to be uninspiring. Analysts are predicting just a 2% jump in quarterly sales for Dell from a year ago and a slight decrease in earnings per share. Earnings and sales are expected to fall at HP.
The bull argument for Dell and HP is that investors already know about the companies' struggles. In the case of HP, investors may be willing to tolerate more quarters of bad results as long as there is a sign that Whitman has a plan for a bold, new strategy.
Still, I think investors would be better off sticking with some of the other companies that have rebounded this year. They really do appear to be on the right track.
Cisco may be the best-positioned to keep rallying because analysts expect a decent year of growth -- 14% for this fiscal year. And Cisco, despite many missteps, still has more to gain from the explosion of data that consumers are now accessing on their mobile devices.
Storage in general is expected to remain a big business -- and even though Dell has made strides there, it still lags IBM and EMC. So those two companies are probably better bets among the tech old guard on that trend.
In the world of chips, Intel is also bulking up in mobile. But not enough to allay concerns about the waning demand for desktops and notebooks. Intel's earnings are only expected to increase at a miniscule rate in 2012.
Meanwhile, Qualcomm continues to be a chipset leader in smartphones and tablets. That's one reason why Qualcomm was a pick in our annual Valentine's Day-inspired Stocks We Love feature this year.
That leaves Microsoft. Yes, Windows is still synonymous with the PC. And yes, Microsoft still is having a rough time figuring out how to make money on its various online businesses. But I wouldn't count Mister Softee out.
Oelschlager said that as long as corporations are still using PCs, it will be tough to beat Microsoft because it is so entrenched in the workplace. Its business services division, i.e. Office, is the largest in terms of sales and profits at Microsoft. It is still growing.
And with Xbox, Microsoft actually has something consumers find cool. Microsoft has arguably made a bigger splash in the living room than any other large tech company -- even Apple.
Best of StockTwits and reader comment of the week. Baidu (BIDU), aka China's Google, had a great quarter -- some investors wanted more. The stock fell 3% Friday afternoon. That may be an overreaction.
And in the Wall Street equivalent of a food fight, General Mills (GIS, Fortune 500) was one of the worst S&P 500 stocks Friday, while ketchup king Heinz (HNZ, Fortune 500) was one of the beat.
bradloncar: Not much more you can say about $BIDU's report than solid growth in almost every way you can measure it. Earnings, eyeballs, you name it.
timseymour: Baidu taking on Google in Brazil. $GOOG has problems closer to home than China now. $BIDU
I wrote about Baidu Monday and still feel the same way about it. Even though it's more expensive than Google, it may be worth it because of growth potential in emerging markets.
retail_guru: Contrast between Heinz & Mills couldn't be clearer. Emg mkt exposure is key to picking winning staples today.$HNZ $KO $PM >$GIS $PG $KMB
Great point. Food companies and other consumer staples firms are only boring and stodgy if they are mostly relying on mature markets like the U.S. and Europe.
Turning to the reader comment of the week, you may have heard about this guy who's the new point guard for the New York Knicks? I think he went to Harvard? And he's mentioned every now and then on Twitter? I compared Apple to Jeremy Lin earlier this week, declaring them both as "unstoppable."
One reader correctly pointed out though that it's unfair to compare the world's most valuable company to a guy who has merely presided over a seven-game winning streak.
"Apple is the MJ of stocks, 6 time champion, Zynga is the Jeremy Lin, quick early success," tweeted Joe Macaulay.
Well said. Apple is more Jordan-esque. Although it would be nice if Lin does better against the Hornets tonight than Zynga (ZNGA) stock did following its first earnings report.
Anyway, I'm out all next week (staycation!) as well as Monday, February 27. The Buzz will be back on Tuesday the 28th.
Here's hoping the Knicks continue their hot streak while I'm in Twitter radio silence mode. But I worry the Knicks may soon need to plead temporary Linsanity.
The opinions expressed in this commentary are solely those of Paul R. La Monica. Other than Time Warner, the parent of CNNMoney, and Abbott Laboratories, La Monica does not own positions in any individual stocks.