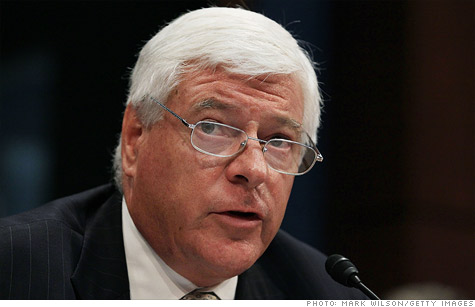 Johnson & Johnson CEO Bill Weldon will step down April 26.
NEW YORK (CNNMoney) -- Johnson & Johnson CEO Bill Weldon will step down in April, the pharmaceutical giant announced Tuesday.
Alex Gorsky, J&J's head of pharmaceuticals in Europe, the Middle East and Africa, will take over in Weldon's place. Weldon will remain the company's chairman.
Weldon, who was with the company for more than 40 years, was for a long period one of the most respected executives in the drug industry. But a series of missteps over the past two years damaged his and his company's once sterling reputations.
Recall after recall hit J&J (JNJ, Fortune 500) division McNeil Consumer Healthcare, culminating in the Food and Drug Administration's takeover of three of the company's factories that manufactured Tylenol last March.
Over the past two years, J&J recalled numerous over-the-counter drugs, including Topomax (odor), Mylanta (undisclosed alcohol), Tylenol (musty smell), and hip implants (required more surgery).
In May 2010, U.S. lawmakers unveiled documents that showed J&J hired contractors to conduct a clandestine recall of more than 88,000 Motrin tablets.
In April 2010, McNeil recalled 135 million bottles of children's and infant's Motrin, Tylenol, Benadryl and Zyrtec drugs for quality issues. It was the largest recall of children's non-prescription drugs.
It wasn't just recalls that hit J&J. The FDA also warned the drug maker among others that it issued false claims about its Listerine mouthwash.
Last April, the Securities and Exchange Commission charged Johnson & Johnson with bribing doctors in several countries to prescribe its drugs and medical devices.
"J&J chose profit margins over compliance with the law by acquiring a private company for the purpose of paying bribes, and using sham contracts, off-shore companies, and slush funds to cover its tracks," Robert Khuzami, director of the SEC's enforcement division, said at the time.
Weldon has been with the company since 1971, moving up the ranks and through various departments, including sales, marketing and international management. He was named CEO and chairman in 2002.
Gorsky will become just the company's seventh CEO since its founding in 1886.
"Alex is an experienced, visionary and disciplined leader," Weldon said in a prepared statement. "I look forward to the transition of leadership and to a bright future for Johnson & Johnson."
-- CNNMoney senior writer Parija Kavilanz contributed reporting to this article.