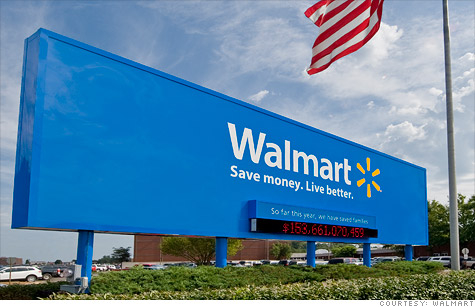 Wal-Mart's earnings were slightly higher than a year earlier, but below forecasts.
NEW YORK (CNNMoney) -- Wal-Mart Stores, the world's largest retailer, finished the biggest quarter of its fiscal year with a mixed picture.
Wal-Mart (WMT, Fortune 500) said Tuesday that earnings from operations in the fiscal fourth quarter -- which includes the year-end holidays -- rose to $1.51 a diluted share from $1.41 a year earlier, including 7 cent-a-share benefits in each quarter.
Excluding the benefit, the retailer earned a $1.44 per share in the quarter, up from $1.34 per share a year ago.
Total sales rose 4.5% to $120.9 billion, excluding new acquisitions of stores in the United Kingdom and South Africa.
Sales at Wal-Mart's U.S. stores open a year or more climbed 1.5%, the second straight quarter of increased comparable store sales.
But the per-share earnings and total sales were below the consensus estimates of analysts surveyed by Thomson Reuters. And net income fell 12% on a year-over-year basis due to a large one-time gain the year before.
Wal-Mart was cautious about its outlook for the first quarter and new fiscal year, citing such concerns as higher gas prices and the global economic crunch.
The company projects that its first-quarter diluted earnings per share will be between $1.01 and $1.06, compared to the year-ago figure of 98 cents.
For the next full year, the company is forecasting earnings per share in the range of $4.72 to $4.92, up from $4.54 for the year that just ended.
Wal-Mart's stock fell 4% at the start of trading.