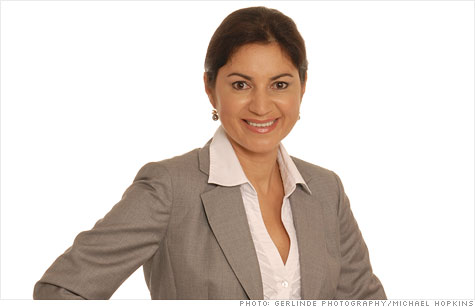 The recession hurt Rosana Santos Calambichis's frozen-food business. The company recovered and recently Big Chef made its first million in revenues.
NEW YORK (CNNMoney) -- Rosana Santos Calambichis was only two years into operating her business Big Chef, a Hollywood, Fla., frozen-food company, when it was hit by Hurricane Wilma in 2005.
The storm hurt the company's sales, but Big Chef, which cooks and prepares canapés for catering functions, grab-and-go meals for busy households and entrees for the kitchen table, was able to recover.
Then came the recession in 2008. And the then five-year-old company's "sales dropped 75 percent," said Santos Calambichis.
But the company weathered that, too, as well as other challenges, with employee compromises and aggressive social-media marketing.
By October of last year, Big Chef - www.bigchefonline.com - had shipped out enough meals to surpass $1 million in revenues. "We were so close last year [2010] but didn't make it," said Santos Calambichis. When the company finally reached it, Santos Calambichis said to her husband Mano, a former restaurateur who handles the company's customer service, " 'Wow! We made it!' "
Nine years ago Santos Calambichis, 46, left her career as a business broker for privately held companies in Florida and acquired Big Chef with her husband, quickly moving it into five-star status. Culinary influences for items such as curry crab lollipops come from Brazil, the Mediterranean, Latin America and Asia.
Meals are frozen and shipped overnight; fresh options are available to local customers.
"Everything is handcrafted -- even our dough," said Santos Calambichis. "We make everything with natural, organic ingredients whenever possible."
Big Chef never advertised. Word of mouth was successful, and Santos Calambichis sponsored events. Social-media sites like Facebook allowed her to flex creative-marketing muscles. For the last Christmas holiday, she chose 10 countries to highlight in terms of their culinary traditions. Winning entries from a recent recipe contest were published in an e-book.
The company grew from five employees in 2003 to a current staff of 30.
When the recession hit in 2008, Santos Calambichis coped by launching a more affordable line while strengthening relationships with high-end hospitality clients, such as InterContinental and Hyatt hotels. None of the company's employees were let go. "They volunteered to reduce their hours to six a day, down from eight," she said. "We were lucky enough to not only keep every employee but hire more."
Santos Calambichis built upon her business background by earning an MBA in Global Business from University of Phoenix's Fort Lauderdale campus in 2004. For her final project she didn't create a marketing plan for a fictitious company -- which was the assignment -- but she chose to focus on Big Chef.
That helped prepare her for Hurricane Wilma. "We basically lost everything -- including the inventory we were building -- and we had a power outage for two weeks," due to a broken generator, she said. Yet Santos Calambichis still showed up at an industry food and beverage show in Miami Beach three weeks later.
A subsequent power outage resulted in lost data -- including employee manuals and safety guides -- that had to be reconstructed in QuickBooks. "For a period, we had to handwrite the invoices," she said. Now, information is stored online to avoid this happening again.
Another lesson Santos Calambichis learned was the importance in cross training. After a newly hired chef quit after one week she vowed to always have two chefs.
Her quick thinking has earned Big Chef more customers and respect. The company is good with customer service, said David DeLeon, executive chef with Signature Grand in Davie, Fla., an event space for weddings and bar/bat mitzvahs, which buys hors d'oeuvres and fresh canapés from Big Chef.
The staff often picks his brain with questions about how they can serve him better, said DeLeon. "They are always looking for fresh, innovative ways for their company."