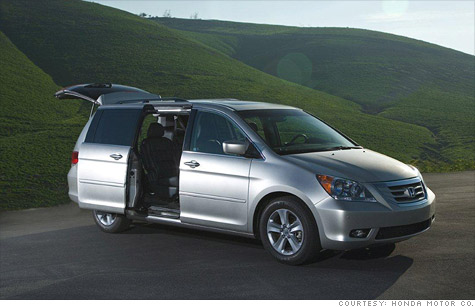 Honda is recalling 46,000 Odyssey minivans for faulty tailtate struts.
NEW YORK (CNNMoney) -- Honda is recalling 46,000 Odyssey minivans because their power tailgates, when open, can drop unexpectedly, potentially injuring anyone standing underneath.
Due to a manufacturing error by the part supplier, the gas-filled struts that hold the tailgates open can leak, reducing their ability to hold up the heavy tailgate.
If the struts leak, the tailgate can suddenly drop several inches, a Honda spokesman said. At that point, the electric motor that powers the tailgate into the open position will slow the tailgate's fall.
Honda (HMC) is aware of two minor injuries resulting from falling tailgates.
The recall involves model year 2008 and 2009 vans equipped with power rear liftgates. Recall letters will be sent to owners beginning in mid-March. Owners with affected vehicles will be asked to go to a dealership to have the struts inspected and possibly replaced.