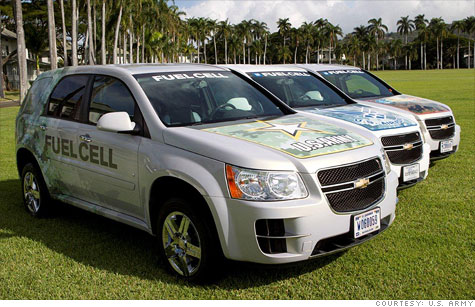 The U.S. Army unveiled a fleet of new hydrogen fuel cell vehicles the military will be testing in Hawaii. The vehicles will be used by the Army, Air Force and Navy.
NEW YORK (CNNMoney) -- The United States Army is looking at hydrogen fuel cell vehicles, hoping that sometime in the near future they'll play some important military roles, maybe even on the battlefield.
The military has been looking at alternative fuels like this because of the difficulty, expense and danger of securing oil and gasoline supplies.
Hydrogen fuel cells, in particular, seem promising because of their design flexibility, said Major General Roger Matthews, Deputy Commanding General of the U.S. Army Pacific.
Unlike an ordinary car's engine and transmission, fuel cells and batteries can take various shapes and be arranged inside the vehicle in a number of different ways.
That allows for vehicles to be better designed for different roles, whether for carrying people, cargo or other duties, he said.
For now, the U.S. is testing a fleet of 16 General Motors fuel cell vehicles in Hawaii. They run on compressed hydrogen gas. The hydrogen is combined in a fuel cell with oxygen from the air in a process that generates electricity. The only exhaust the vehicles produce is water vapor.
This new fleet includes one vehicle that can be used as a portable generator, supplying enough energy to keep the lights on in several homes. The same technology could be useful in an "tactical" vehicle, said Matthews, providing power to a command center, for instance.
"We think this might have greater application in combat vehicles," he said.
The car's low environmental impact is a serious benefit, too, said Matthews. Particularly in Hawaii, the Army doesn't want to be seen as a destructive force on the islands' delicate ecology.
"We have to be good stewards of the environment," he said.
The 16 vehicles in the test fleet are distributed across various branches of the military, including the Army, Air Force and Navy. They are being used as "administrative" vehicles, performing light-duty work such as ferrying around personnel.
The military spends roughly $3.6 million a year to lease the fleet of from GM, said Major General Roger Matthews, Deputy Commanding General of the U.S. Army Pacific.
Their biggest advantage over electric cars is that it takes much less time -- usually just a few minutes -- to pump a tank full of hydrogen than it does to charge a large battery.
These vehicles have a range of about 200 miles on a full tank. The state of Hawaii, where the cars are being tested, has also partnered with GM to test hydrogen fuel cell cars.
Hydrogen fueled cars make sense in Hawaii because the Pacific islands produce hydrogen locally from various sources, unlike gasoline which must be imported. Plus, Hawaii has the highest gasoline prices in the nation.
Hawaii also makes an ideal test site because the islands' small size make for relatively short and predictable drive routes, said Charles Freese, exec director of GM's hydrogen fuel cell programs.
The environment also presents unique challenges with its high humidity, salty air and wide variety of different terrains.
For now, hydrogen fuel cell technology remains expensive. But Matthews says the only way to reduce the cost is to invest in more research projects like this.