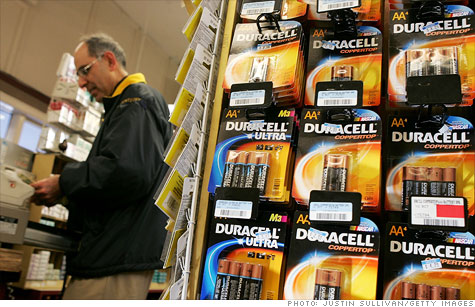 P&G brands include Duracell, Pampers and CoverGirl.
NEW YORK (CNNMoney) -- Procter & Gamble announced plans Thursday to cut 5,700 positions globally by June of next year.

In a presentation to the Consumer Analyst Group of New York, Procter & Gamble (PNG) CEO Bob McDonald and CFO Jon Moeller said the cuts were part of a plan to save $10 billion in costs by 2016.
The dismissals will eliminate 10% of the company's global non-manufacturing workforce, with 1,600 cuts coming before June and a further 4,100 in the 12 months that follow. The household goods giant estimates these lay-offs will save $800 million before taxes by 2014.

A spokesman for Procter & Gamble said he had no information on how many U.S. positions would be affected.
Other parts of the cost-reduction effort will target marketing, transportation, and the manufacturing process.
Procter & Gamble's brands include Tide, Crest, Charmin and Gillette. The company announced a deal last week to sell its Pringles potato chip unit to Kellogg (K, Fortune 500) after an accounting scandal at would-be buyer Diamond Foods (DMND) scuttled a previous deal.