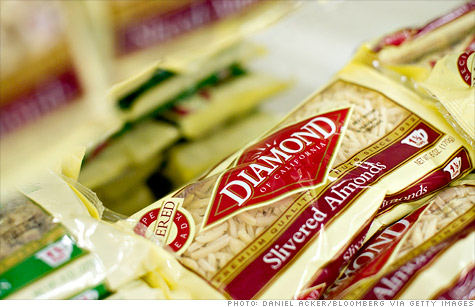 Diamond Foods replaced its CEO and CFO over accounting problems involving payments to walnut farmers.
NEW YORK (CNNMoney) -- Diamond Foods replaced its CEO and CFO and will have to restate its finances for the last two fiscal years because of bad accounting over payments to walnut farmers, the snack purveyor said on Wednesday.
Diamond Foods' (DMND) stock plunged 37% at the start of trading Thursday, as questions arose over whether this jeopardizes the company's deal to buy the Pringles potato chip division from Procter & Gamble (PG, Fortune 500).
Diamond Foods replaced its former CEO, Michael Mendes, with insider Rick Wolford to serve as new CEO and acting president.
Wolford started his career with Dole Food (DOLE, Fortune 500) and served as the former CEO, president and chairman of Del Monte Foods until his retirement in March of 2011. He has served as director with Diamond Foods since April.
Diamond Foods said that Mendes was "placed on administrative leave," along with another executive, former chief financial and administrative officer Steven Neil.
The San Francisco-based company also appointed a new chief financial officer, Michael Murphy of the corporate consultancy Alix Partners, LLP.
Diamond Foods said that the audit committee of its board of directors determined that the company's financial statements of fiscal years 2010 and 2011 must be restated.
The committee concluded that two payments to walnut farmers, of $20 million in 2010 and $60 million in 2011, were not recorded in the correct periods.
The company has been plagued by difficulties, such as the death in November 2011 of Joseph Silveira, a member of the board of the directors. News reports have suggested that Silveira committed suicide and that it might have had something to do with the accounting mess, but the company has denied that.
"Joe served Diamond shareholders with dignity and dedication for many years," announced Diamond Foods after his death.
The company added that "any suggestion that his passing was somehow related to the accounting investigation" was "demeaning to his legacy."
Diamond Foods' announcement of its executives' ouster raises more questions than answers, according to a report from Jefferies analysts.
"We assume the Pringles deal will be called off now, leaving [Diamond Foods] liable for a $60 million breakup fee to P&G," wrote Thilo Wrede of Jefferies, in a report co-authored with other analysts.
The analysts said they are still trying to make sense out of what's behind the inaccurate accounting, which the company blamed on a breakdown of internal controls.
"We hope to eventually learn more details in this matter," the analysts said.