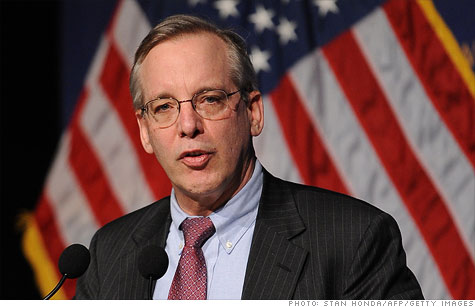 New York Fed President William Dudley
NEW YORK (CNNMoney) -- The Federal Reserve takes a lot of heat from critics for keeping interest rates low. But there's an upside that most people overlook: Low interest rates save the government money.
Speaking at a conference on monetary policy Friday, New York Fed President William Dudley stressed how lower rates reduce the interest that the federal government pays on the national debt.
In addition, the Fed's policies have also led to larger payoffs for the U.S. government. By making huge asset purchases over the last couple of years in order to keep rates down, the Fed is also earning interest on those investments. That money gets returned to the Treasury. Last year, the Fed sent about $77 billion to the Treasury, more than double what it was earning before the financial crisis.
"The interest bill on the growing federal debt burden has been temporarily restrained by the low level of interest rates and high level of remittances from the Federal Reserve to the Treasury," Dudley said at the U.S. Monetary Policy Forum presented by the University of Chicago Booth School of Business on Friday.
The event is essentially a meeting of minds between Federal Reserve officials, members of foreign central banks and economists from some of the world's largest banks and top universities.
Dudley pointed out that the Fed determines monetary policy based on economic activity -- not the government's debt bill.
That said, it would behoove fiscal policymakers (meaning Congress and the president) to think ahead to rosier days, when eventually, tighter monetary policy will raise the government's interest bill.
That's exactly why lawmakers need to come up with a credible plan for the nation's debt now, he said.
"The United States faces substantial fiscal challenges in the years ahead," Dudley said in prepared remarks. "In one important respect -- net interest expense -- these challenges may be more daunting that fully appreciated currently."
Dudley also recommended the U.S. focus on increasing exports -- one of Obama's chief goals -- as a means of rebalancing its trade gap. When imports grow faster than exports, it subtracts from economic growth.
He also urged countries that have large trade surpluses -- like China -- to "reorient their economies over time toward increasing domestic demand."