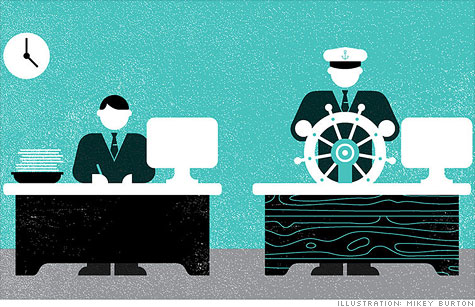 Want a job promotion? Help steer the ship at work.
(MONEY Magazine) -- Looking for a promotion in 2012? You may need to rethink how you go after it.
As LinkedIn founder Reid Hoffman points out in his new book, "The Start-Up of You," the old ways of getting ahead aren't as effective in today's economy. To move up now, he says, you've got to think less like an employee waiting for direction and more like a risk-taking business owner.
"Even if you work at a big company, you need the mentality of an entrepreneur," adds Hoffman's co-author, Ben Casnocha. Ask yourself: What would an entrepreneur do?
Identify new niches
Entrepreneurs look for unsolved problems in the marketplace. And they profit by offering solutions.
As a corporate employee, you can do something similar by coming up with ideas for new products and services that target your company's customers, advises John Torrens, assistant professor of entrepreneurial practice at Syracuse University.
When you're face to face with clients, ask for input on how your firm can better serve them. Also, have lunch with contacts from other industries to stay current on new ideas that might be applicable, or read trade journals in vaguely related fields.
If you work at a hospital, for example, you may uncover fresh ways to improve patient experience by studying the luxury hotel business, notes Torrens.
Find a backer
Without money, even the most innovative idea won't get very far -- which is why business owners spend a lot of their time seeking out investors and loans.
To snag a share of the budget in the corporate world, win the support of a high-ranking and influential ally whom you can trust not to steal the credit, says Srinivasan Pillay, M.D., CEO of the executive coaching firm NeuroBusiness Group and author of "Your Brain and Business."
Perhaps that's a boss who doesn't have time to devote to a problem but wants to solve it nonetheless. Even if your rally for funds is unsuccessful, your efforts will raise your profile.
Bring in prospects
The success of a startup depends on its ability to find customers. But how can you help grow the client base within a company if your job isn't in sales or marketing?
"One of the easiest ways is to present a topic you're an expert on to an audience of potential customers," says John Paul Engel, CEO of Knowledge Capital Consulting, which advises companies on growth.
For example, if you work for a web search-optimization firm, you might volunteer to speak at a conference for accountants on getting traffic to their blogs. Then you can pass along contacts you make to the sales team. You can't go wrong helping the company make money.
Do you know a Money Hero? MONEY magazine is celebrating people, both famous and unsung, who have done extraordinary work to improve others' financial well-being. To nominate your Money Hero, email heroes@moneymail.com.