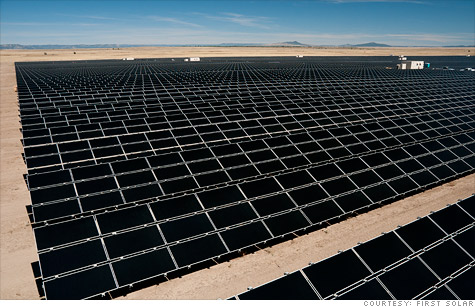 First Solar is based in Arizona.
NEW YORK (CNNMoney) -- Shares of solar power company First Solar dropped in after-hours trading Tuesday following disappointing quarterly results.

The Arizona-based company, a leading maker of thin-film solar panels and a developer of solar power projects, posted net sales of $660 million and earnings per share of $1.26, excluding certain charges. Analysts surveyed by Thomson Reuters expected the firm to post earnings of $1.54 per share on $782 million in revenue for the quarter ended in December.

When taking into account costs incurred during the quarter from factors including restructuring and loss of goodwill, First Solar (FSLR) sustained a net loss of $413 million.

"First Solar's performance in the quarter was impacted by an aggressive competitive environment, an uncertain regulatory environment, warranty-related charges, and restructuring costs incurred to help position our business for the future," Mike Ahearn, First Solar's chairman and interim CEO, said in a statement.

The company also lowered its sales guidance for 2012 from $3.7-$4.0 billion to $3.5-$3.8 billion. Following a brief halt to trading after the bell, shares dropped roughly 15% before rebounding to around 6% down late in the day.
First Solar shares are down 75% over the past year. Like all solar panel makers, the company's stock has been battered as a huge oversupply and slack demand have caused the price of silicon solar panels to plummet.

The industry has also been hurt by the loss of valuable subsidies from European governments, cut as the continent's sovereign debt crisis has gathered force. In addition, some manufacturers say Chinese companies are pushing them out of the market by selling solar panels below cost, benefiting from Chinese government support.

Despite these challenges, First Solar maintained its earnings guidance for 2012 at $3.75 to $4.25 per share in its statement Tuesday. Ahearn said that efforts to improve on module efficiency and manufacturing costs, combined with restructuring efforts, "enhance our competitive position in a very challenging environment."