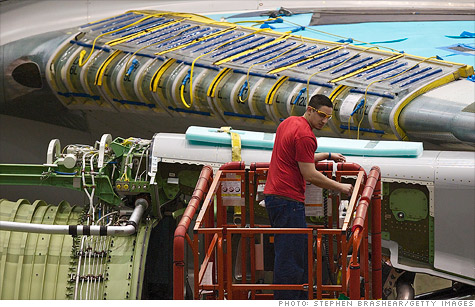 A Boeing employee works on an assembly line at the company's factory in Everett, Wash. New orders for nondefense aircraft and parts plummeted 19% in January.
NEW YORK (CNNMoney) -- Orders for long-lasting goods plunged in January, as businesses fiercely pulled back on buying new equipment after a special tax treatment expired.
New orders for durable goods -- long-lasting items like machinery, airplanes, furniture and appliances -- slumped a surprising 4% in January, the Commerce Department reported Tuesday. It marked the the biggest monthly decline since January 2009, when the country was in the midst of the recession.
The slump comes after three straight months of increases for new orders -- an encouraging sign that manufacturers were seeing more demand for their goods.
Economists called the January numbers "terrible" and "shockingly weak," and stock futures pared back some of their premarket gains as soon as the report was released. Forecasts compiled by Briefing.com show economists had expected only a 1.4% drop in orders.
The disappointing news could be a sign of weaker manufacturing activity to come. That said, the durable goods report is also notorious for being volatile, especially at the beginning of the year, and in this case, one-time factors appear to have had a significant impact.
For example, this January marks the first month that businesses could not fully expense their equipment purchases, after tax allowances allowing them to do so expired in December 2011.
Last year, lawmakers extended special tax treatment to businesses who retooled and bought more equipment, allowing them to deduct 100% of the money they spent on equipment from their taxes. Without the measure -- called 100% bonus depreciation, businesses would typically have to deduct the expense over several years.
Businesses rushed to get in orders for equipment before the end of the year, providing a boost to economic growth at the end of 2011, but now orders are slumping. Orders for machinery fell 10.4%.
After excluding aircraft and military spending, shipments of capital goods -- a broad category that includes everything from farm equipment and construction machinery to boats and photographic equipment -- slumped 3.1%.
Meanwhile, electronics manufacturers could still be feeling the impact of flooding in Thailand at the end of 2011. Thailand is an electronics manufacturing hub for hundreds of companies, and flooding there led to a shortage of hard drives and integrated circuit boards. Orders for computers and related products plunged 10.1% in January.
Nondefense aircraft orders fell 19% in January, heavily influenced by decreased orders at Boeing (BA, Fortune 500). The aerospace giant received orders for 150 planes in January, down from 287 in December.
The decline in durable goods orders overall caused economists to slightly cut back their forecasts for economic growth. Business spending in equipment and software has been one of the stronger points of the recovery, and data that shows weakness in that area could mean the economy is expanding even slower than previously thought.
"Equipment and software investment was one of the areas where we expected -- and continue to expect -- to see growth," said Jeff Greenberg, U.S. economist at Nomura Securities. "Our sense is manufacturing is not cruising along, but is still gradually expanding."
Nomura lowered its prediction for gross domestic product to grow at an annual pace of 1.4% in the first quarter, down from a 1.6% forecast before. Goldman Sachs economists are a bit more optimistic, but still lowered their forecasts slightly. They now predict 2.4% GDP growth, down from 2.5% previously.