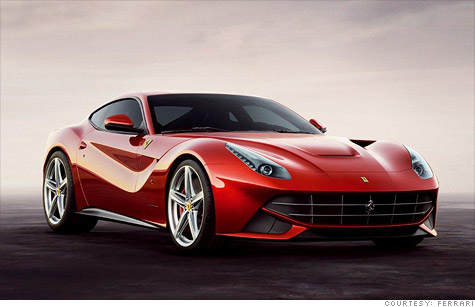 The F12berlinetta will have a new V12 engine that will help make it the fastest street car Ferrari has ever produced.
NEW YORK (CNNMoney) -- Ferrari will unveil its fastest street car ever at next month's Geneva Motor Show.
The Ferrari F12berlinetta is intended to replace the 599, which is currently the automaker's top-of-the-line production car. The 599 has a starting price of about $310,000. Pricing for the F12berlinetta has not yet been announced.
The new car will be powered by a 730-horsepower, 6.3-liter V12 engine. It will be capable of going from zero to 60 miles an hour in about three seconds -- the fastest zero-to-60 time for any Ferrari -- with a top speed of 211 miles per hour.
In addition to being faster, Ferrari said the F12berlinetta also more fuel-efficient. The new car uses 30% less fuel than the 599, which would put its combined city and highway fuel economy at about 17 miles per gallon.
The F12berlinetta is a mid-front-engined coupe, Ferrari said. The engine is mounted as far back under the hood and as low as possible to optimize the car's balance and center of gravity. Ferrari also promises "exceptional in-car space and comfort" despite an overall smaller size.
Last year, Ferrari had record sales and profits. It sold a total of 7,200 cars worldwide while earning a profit of $280 million. Almost 2,000 of the cars were sold in the United States, which was also a record for the brand.
Ferrari is almost wholly owned by Italy's Fiat, which is partnered with Chrysler Group in the United States.