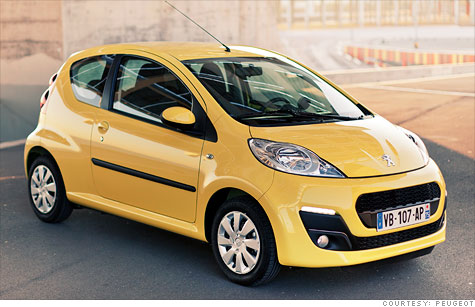 GM is partnering with Peugeot in Europe, an automaker with particular strengths in small, fuel-efficeint cars such as the Peugeot 107 pictured above.
NEW YORK (CNNMoney) -- General Motors has announced an alliance with the French automaker PSA Peugeot Citroen which it says will save the automakers a combined $2 billion within five years.
As part of the agreement, GM will take a 7% stake in Peugeot, making GM the largest single Peugeot shareholder behind the Peugeot family itself.
As part of the cost-saving plan, the two automakers will share some vehicle engineering. They will also share in purchasing parts and materials for their cars. Both GM (GM, Fortune 500) and Peugeot will continue to sell their cars independently, competing with one another.
The cost-savings impact is expected to be small at first, the carmakers said. Real gains will come as new vehicles are designed and engineered.
"This partnership brings tremendous opportunity for our two companies," said Dan Akerson, GM chairman and CEO. "The alliance synergies, in addition to our independent plans, position GM for long-term sustainable profitability in Europe."
Even as GM announced record profits recently the carmaker's European business has continued to lose money. GM has been working to restructure its European operations which did not go through the same bankruptcy restructuring as its U.S. operations.
The two carmakers have significant overlap in Europe, Morgan Stanley analyst Adam Jonas wrote in a recent note to investors, but little overlap outside of Europe. That opens the possibility for cost-savings in Europe, he wrote, without the risk of too much competition globally.
Peugeot is especially strong in small cars, Jonas wrote, with the best average fuel economy of any major automaker.
International alliances have not always worked well for GM.
GM formed an alliance with Fiat of Italy in 2000. That deal fell apart in 2005 with GM paying Fiat $2 billion to unwind the deal. Fiat went on to turn around its ailing business and, ultimately, take on a controlling stake in Chrysler after that automaker, like GM, went through bankruptcy.