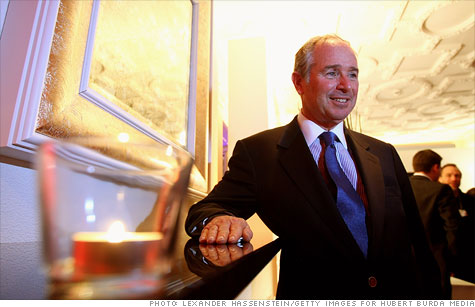 Blackstone CEO Stephen Schwarzman, pictured in Switzerland in 2010, made more than $220 million last year, not including stock options.
NEW YORK (CNNMoney) -- It was a very good year for Stephen Schwarzman.
Schwarzman, the founder and chief executive of the private equity firm Blackstone Group, took in about $223 million in salary and compensation last year, according to Blackstone documents filed with the Securities and Exchange Commission.
That includes Schwarzman's 2011 salary of $350,000, as well as $4.6 million in carried interest income and $74 million in cash distribution from investments.
It also includes his dividends. Blackstone (BX) paid 62 cents per share last year, and Schwarzman holds 231,924,793 shares. That adds up to a stock income payout of $143,793,371 for the CEO last year.
But even Schwarzman's $223 million 2011 payday understates how much money he made off of Blackstone last year.
The total does not include 9.6 million shares of Blackstone stock that vested last year, the final portion of a 38.5 million share grant that Schwarzman received when the company went public in 2007. At year's end, that grant was worth $637 million.
Nor does it include Schwarzman's overall holdings of nearly 232 million shares of Blackstone stock, which are currently worth about $3.6 billion.
Blackstone's press office did not immediately return messages from CNNMoney.