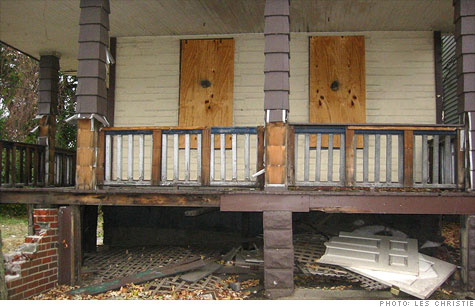 Foreclosure home sales from Fannie Mae may help reduce neighborhood blight.
NEW YORK (CNNMoney) -- Want to become a landlord in one of the nation's hardest-hit foreclosure neighborhoods? Well, Uncle Sam has a deal for you.
Fannie Mae (FNMA, Fortune 500) will offer up nearly 2,500 distressed properties in eight locations to investors who are willing to buy them in bulk and rent them out for a set number of years.
The properties, which are located in Atlanta, Phoenix, Las Vegas, Los Angeles/Riverside, and three Florida regions, include all types of housing units, from single-family homes to co-op apartment buildings.
"This is another important milestone in our initiative designed to reduce taxpayer losses, stabilize neighborhoods and home values, shift to more private management of properties, and reduce the supply of REO properties in the marketplace," said Edward J. DeMarco, the acting director of the Federal Housing Finance Agency (FHFA), which oversees Fannie Mae.
The sales, which will cover a small fraction of the more than 180,000 properties Fannie and Freddie Mac (FMCC, Fortune 500) hold, will be open to qualified buyers under strict guidelines.
Most of the properties already house tenants and buyers will be required to continue to rent out the properties to them for as long as their leases last. Investors will also be required to rent the properties out for a specified number of years. The exact number of years has yet to be disclosed.
Investors must post security deposits in order to bid and also must prove that they are financially stable, have property management experience and have strong ties to the local community, such as a history of working with local development organizations.
FHFA said that bidders must purchase all of the homes that are for sale in a given metro area. In Atlanta, that's as many as 572, while in Chicago it's 99.
Despite the fact that the strict requirements could limit the number of applicants seeking to invest in the properties, the government agencies have said there is strong interest in the program. FHFA said it has received more than 4,000 responses to a request for public input on how best to dispose of the vast number of homes Fannie and Freddie Mac (FMCC, Fortune 500) have acquired from borrowers who defaulted on their loans.
Real estate consultant John Burns said there should be no problem at all finding buyers.
"I've got three or four clients myself, maybe more, who will bid on every one of those portfolios," he said.
Burns believes the sales should help bolster the housing market. By taking these distressed properties off the market, it will prevent them from further weighing on home prices in surrounding neighborhoods, said Burns. It will also add to the rental property inventory, which should help offset recent rent hikes.
And, by filling up what otherwise could be vacant homes, it should also reduce blight. Vacant homes attract vandals and criminals, which reduces property values and make it more likely that other nearby homeowners will walk away from their mortgages.
"We believe that this initiative holds promise for providing support to local neighborhoods that were especially hard hit by the housing crisis and will help meet the rising demand for rental housing in many communities," said Michael Stegman, a housing finance advisor at the Treasury Department.
FHFA will not say when the first sale is expected to go to contract. Given that it is a complicated process that includes analyzing and comparing bids, it will probably take a couple of months before any final buyers are selected.