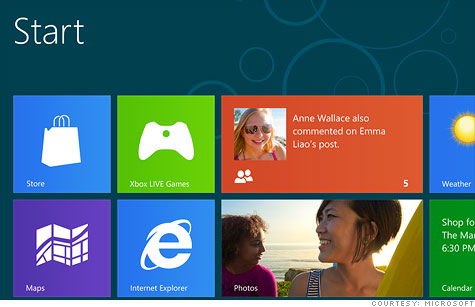 BARCELONA, Spain (CNNMoney) -- Microsoft gave consumers their first opportunity to download and play around with the company's new Windows 8 operating system.
It's still only in "preview" mode, which means it's likely bug-ridden and comes with no customer support. But it gives testers a view of how Microsoft (MSFT, Fortune 500) envisions the future of computing.
Windows 8 is very different from the many operating systems the software giant has launched since 1995. In some ways, Windows 8 represents even more of a sea change for Microsoft and the personal computer than did Windows 95.
By bringing touch, an entirely new user interface, and a new chip architecture to the Windows platform, Microsoft has opened the door for hardware and software makers to change the definition of what makes a PC.
"We live in a world where tablets are about touch, and PCs about the keyboard and mouse, but what happens when you revisit those assumptions?" asked Steven Sinofsky, Microsoft's president of Windows, at a presentation at Mobile World Congress in Barcelona. "Touch is just another point in Windows 8 where you get to pick 'and.' It's not about 'or' anymore."
Microsoft showed off about a dozen reference designs that PC manufacturers made for developers to test Windows 8 on. Many were tablets, others were touch-enabled laptops. One was a giant 50-some-odd inch interactive display. Another was a touch screen monitor that swiveled to become a drafting table or a table top.
Microsoft first unveiled Windows 8 to the world in its developer preview in September. Since then, the company said it has made more than 100,000 changes to its software code.
The visible differences are in speed, the availability of a robust Windows app store, and a new feature that allows users to sign into any Windows 8 computer using a their Windows Live ID and automatically view their desktop image, preferences and apps.
Microsoft also tweaked its user interface a bit, most noticeably by getting rid of the Start button from the desktop application.
Microsoft said its primary aim was to make Windows 8 both "fast and fluid." But the company also wanted to make it accessible to both casual users and power users.
To accomplish that, Microsoft made its new "Metro" tile-based user interface fully accessible with a keyboard and mouse. And the traditional desktop -- for those who prefer that experience -- can be accessed by clicking on the desktop application tile or with a keyboard shortcut. The desktop, in a sense, becomes just another app with Windows 8, and it can be viewed side-by-side with a video, game, or any other Metro-style application.
With the new user interface comes a whole slew of new commands that Windows users will have to learn.
The lock screen in Windows 8 shows users icons that say how many e-mails, messages and notifications are waiting for them. With a swipe up, the user is taken to a lock screen, which can be logged into with a Windows ID and password or by replicating pre-recorded gestures on a photo.
Windows 8 also allows users to pinch to zoom, rotate with two fingers to turn, and tap and hold to drag.
It's a lot to learn, but the company thinks that everything new will be intuitive.
"Windows 8 will be fun and come naturally to people," said Sinofsky. "To say we're excited about this development is an understatement."
Windows fans are excited as well. The preview had been released at the start of the hour-and-a-half-long presentation Wednesday and had already been downloaded in 70 countries by the end. If you're brave enough, you can try it out too at preview.windows.com.
Microsoft gave no hints about when it would release a final version of Windows 8, but CEO Steve Ballmer hinted several months ago that it would be coming out at some point in 2012.