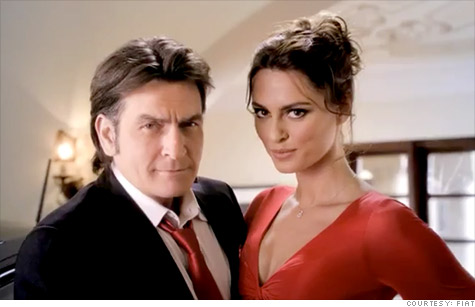 Charlie Sheen stars in the latest Fiat 500 Abarth commercial.
CNNMoney (New York) -- Hollywood actor and warlock Charlie Sheen is getting a second chance, this time from Fiat.
The Italian car company's latest commercial for its tiny Fiat 500 Abarth prominently features Sheen, whose career took a nosedive last year amid several public breakdowns. The ad, released this week, acknowledges the crazed-bad boy persona Sheen has developed -- and exploits it.
In it, Sheen is under house arrest. His response? Host a wild party at his mansion with attractive models dancing and screaming as he races his tiny car around inside his home.
Sheen, wearing a fitted suit and ankle bracelet, exits the car and smirks as he faces the cheering crowd on the balcony above him.
"I love being under house arrest," he says confidently, clinging to a brunette model in red. "What do I get for bad behavior?"
The better question is what Fiat (FIATY), which is a major stakeholder in Chrysler, will get for hiring Sheen. He is, after all, an actor whose self-destructive and reckless actions were until recently seen as radioactive.
Chrysler executives were not immediately available to comment. But in a statement released Thursday, the head of Fiat branding explained why the company chose to go with last year's largest public relations disaster.
"The Fiat 500 Abarth is the bad boy of the Fiat vehicle lineup, and Charlie Sheen personifies the edgy and fun attributes of the Fiat 500 Abarth," said Olivier Francois, who also serves as Chrysler's chief marketing officer.
The ad tries to drive that point home with the slogan, "Not all bad boys are created equal." Presumably, the 160-horsepower, five-speed transmission car with a 1.4-liter engine instantly gains Sheen's street cred.
But using a controversial star is a risky move reserved for companies that aren't household names, according to Lee Garfinkel, chief creative officer of global brands at marketing firm Euro RSCG Worldwide.
"It's got be about talk value," said Garfinkel, who supervises beer company Dos Equis' "The Most Interesting Man in the World" advertising campaign. He said a company like Fiat, which is well known in Europe and just starting to grow in the U.S., has less to lose than a brand like Coca-Cola (C, Fortune 500).
Garfinkel adds that Fiat's latest commercial is much more believable than the spot it did last year with Jennifer Lopez. That ad showed her driving a Fiat 500 in the Bronx, but viewers were skeptical that Lopez would drive a Fiat - much less in the Bronx. It was later discovered that the ad wasn't even filmed in New York.
"Those just didn't work at all. I was thinking, 'There's no way Jennifer Lopez is driving a Fiat, and no way in the Bronx,'" Garfinkel said. "For comedy that works, there's got to be some essence of truth. It reeked of advertising baloney."
"If he is a joke at this point, some people will ignore the commercial or find it interesting. I don't think there will be a downside to it. And if it's successful, then maybe five or six months from now we'll see Charlie Sheen Part Two," Garfinkel joked.
Fiat better hope not.