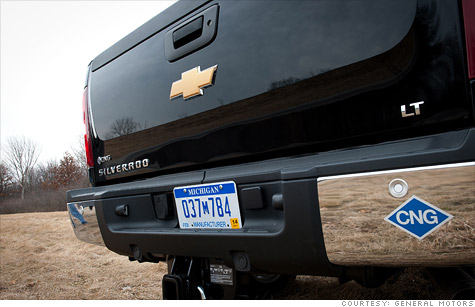 The Chevrolet Silverado, which can run on either natural gas or gasoline, due to go on sale in April.
NEW YORK (CNNMoney) -- General Motors and Chrysler Group are about to start selling full-size pickups that can seamlessly switch back and forth between natural gas and gasoline.
The trucks have two tanks, and drivers can choose which fuel they want to use; if they run out of one, the vehicle automatically switches to the other.
The ability to run on either fuel is an important step for winning over new customers who might be interested in the cost savings from the significantly cheaper compressed natural gas (CNG) but worry about running out of fuel and not finding a compatible station, said Joyce Mattman, director of commercial product and specialty vehicles for GM (GM, Fortune 500).
There are only about 1,000 fueling stations across the country that sell CNG, with roughly half of those open to the general public. But despite the limited CNG stations, almost all the natural gas vehicles sold in the U.S. are CNG-only due to tax breaks that weren't available for bi-fuel vehicles, said Richard Kolodziej, president of Natural Gas Vehicles for America, an industry trade group.
Because of that, there were only 112,000 CNG vehicles on U.S. roads at the end of 2010, the most recent figure available. And a large percentage are heavy-duty vehicles that return to a base each night to refuel, such as city buses, delivery trucks or garbage trucks.
The cost savings of using CNG instead of gasoline is marked. The amount of CNG that is equivalent to a gallon of gasoline now sells for between $1.50 to $2 less than a gallon of regular gasoline. And with growing and abundant supplies cutting natural gas prices, coupled with rising gasoline prices, that gap could grow even larger in the years ahead, saving drivers using CNG thousands of dollars a year. (Watch: How to spend less on gas)
The CNG vehicles, whether pure CNG or bi-fuel, cost more than their gasoline-only counterparts. Kolodziej's group is pushing for a new tax break to help buyers of both kinds of CNG vehicles with the cost premium. But GM and Chrysler are planning to go ahead with their vehicles whether or not the tax incentive passes, due to the growing demand from businesses looking to save on operating costs. (Watch: Playing the gas price blame game)
Both companies' vehicles will lose some of the cargo space in their beds to the CNG tank. But both will be able to carry the same cargo, by weight, and have equal towing capacity as a gas version of the pickup.
The GM offerings, announced Monday, will be for the the 2013 models of the heavy-duty pickups -- the Chevrolet Silverado and GMC Sierra 2500. While they will sell to the general public, Mattman said, "We expect the volume initially will be coming from fleet sales to businesses."
GM officials did not have pricing or the extra cost of the bi-fuel option for the vehicles set to go on sale in April.
Chrysler plans to announce a bi-fuel Ram 2500 pickup at a press conference Tuesday. It will initially only be offered to fleet customers. The bi-fuel option will cost about $12,000 more than the standard version of the truck.
Neither company plans to announce sales targets for the trucks. But both hope for greater sales than the limited demand for CNG-only vehicles. GM has sold a CNG-only van to fleet customers, with about 1,200 going to AT&T (T, Fortune 500), its largest customer, in 2011.
Chrysler has not had a CNG vehicle before now, but Fiat Group (FIATY), which owns the controlling stake in Chrysler, is a leading provider of bi-fuel CNG/gasoline vehicles in Europe, where the combination is popular in both car and truck models. Virtually all of the more than 13 million CNG vehicles elsewhere in the world can run on both CNG and gasoline, said Kolodziej.
Honda (HMC) sells the only CNG-powered U.S. car model, the compact Civic Natural Gas. It sold less than 1,000 last year, mostly in California, but it expects to hit about 2,000 sales in 2012, according to company officials. The CNG version of the Civic costs about $26,000, compared to just under $19,000 for a comparable gasoline model.