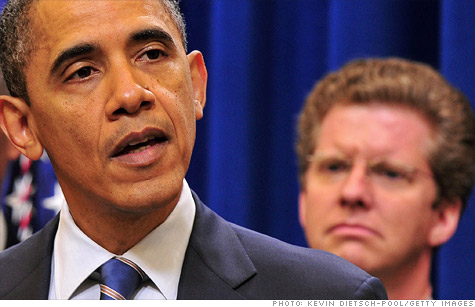 NEW YORK (CNNMoney) -- Borrowers with some federally insured mortgages will be able to refinance into lower interest rate loans more easily and cheaply under a plan unveiled Tuesday by the Obama administration.
At a news conference, President Obama announced that the Federal Housing Administration will cut upfront fees for refinanced loans it already insures.
The new fees are for borrowers whose FHA loans were issued before June 1, 2009. An estimated 2 to 3 million borrowers could take advantage of the savings, which could reduce mortgage payments for the typical FHA borrower by about a thousand dollars a year, according to the administration.
"It's like another tax cut in people's pockets," said President Obama.
Borrowers who refinance their existing FHA loans will pay an upfront insurance premium equal to 0.1%, the lowest allowable rate, of the mortgage amount -- $100 for a $100,000 loan -- plus an annual fee of 0.55%.
The new refinancing fees contrast sharply with the cost of obtaining a FHA loan, according to Jaret Seiberg, an analyst with the Washington Research Group. A borrower making a 3.5% down payment on a home purchase as of April 1 will pay a 1.75% upfront fee and a 1.25% annual fee. Those purchase fees were raised barely a week ago to improve the FHA's capital reserve.
Still, lowering refinancing fees "should be broadly positive for housing and the economy by reducing foreclosures and freeing up income for consumers to spend on other goods and services," Seiberg said.
The new policy will also make it easier for the banks to refinance loans because it directs the FHA not to count the loans toward the lender's "compare ratio." That calculates the performance of loans issued by the lenders and compares it to the performance of other lenders.
Some lenders have not wanted to refinance FHA loans because many of them were made during years of high default rates, according to Seiberg.
Knowing that the FHA will not hold refinanced loans against them should they fail to perform could make lenders more willing to refinance loans for borrowers at a higher credit risk, according to Jay Brinkmann, chief economist for the Mortgage Bankers Association.
"They have not been accepting credit scores below a certain point," he said. "Now, they may."
The fee reduction is the latest in a long line of administration initiatives intended to jump-start the housing market and, by extension, the economy.
The latest move can be thought of as an extension of the Home Affordable Refinance Program, or HARP. That program enables borrowers with mortgages backed by Fannie Mae (FNMA, Fortune 500) or Freddie Mac (FRE) to refinance even when they owe far more than their homes are worth. By reducing mortgage payments, both HARP and the new FHA fees free up money that could now be spent on other things like consumer goods.
Help for service members
In addition to the new refinancing fees, President Obama also announced steps to provide relief to service members who were wrongfully foreclosed on or suffered financial during the housing meltdown. As part of the plan, mortgage lenders and servicers will be required to review the case of every service member who was foreclosed on since 2006.
Any member of the military who wrongfully lost their home to foreclosure during that period will be repaid for their lost equity, plus interest. They will also receive a flat fee of $116,785.
Arrived at in negotiations with the five major servicers, that payout represents compensation for economic loss and emotional distress, said Tom Perez, U.S. assistant attorney general in the civil rights division. "I want to emphasize that it's a floor, not a ceiling and that overall compensation may be higher," he said.
According to Shaun Donovan, the Secretary of the Department of Housing and Urban Development, there's no way to accurately forecast how many service members would be eligible for relief under this part of the settlement. However, he said a similar agreement with just one of the servicers, Bank of America (BAC, Fortune 500), yielded 157 cases in which compensation was paid out.
"I'm anticipating that there could be thousands of potential victims," he said
Service members who were denied the opportunity to refinance at the 6% interest rate required under the Relief Act will also be refunded anything they were charged over the 6% rate, plus interest.
In addition, military members who bought their homes between July 1, 2006 and December 31, 2008 and were forced to sell them at a loss due to a permanent change in station may be compensated for the loss in their home's value.
Service members who believe their rights were violated by Bank of America, J.P. Morgan Chase (JPM, Fortune 500), Ally Financial (the old GMAC), Citibank (C, Fortune 500), or Wells Fargo (WFC, Fortune 500) can contact the Justice Department directly at 1-800-896-7743.