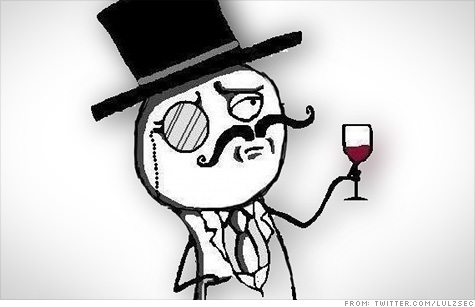 Leaders of Anonymous offshoot LulzSec, known for its stick figure mascot, were arrested Tuesday.
NEW YORK (CNNMoney) -- In the U.S. government's biggest crackdown to date on a hacktivist group calling itself "Anonymous," four leaders and one other activist were arrested Tuesday and charged with a computer hacking conspiracy.
The U.S. Department of Justice also revealed Tuesday that it had snared the prime leader of an Anonymous offshoot group called LulzSec, which conducted a high-profile, two-month hacking rampage last summer against corporate and government targets.
The raids and arrests put the loosely connected hacking movement into disarray.
Several members who affiliate themselves with Anonymous claimed on Twitter to have been raided by federal authorities. A popular Anonymous Twitter account, @YourAnonNews, was continuously tweeting in response that the movement "doesn't have a leader," and is instead "an idea" that will "keep growing, adapting and evolving, no matter what."
What particularly set the movement on edge was the conviction and apparent turning of the LulzSec leader Hector Xavier Monsegur, known by his hacker alias Sabu.
The DOJ revealed Tuesday that federal authorities investigated the hacker suspects with help from a leader within the organization who had been secretly working with government officials. Fox News reported that Monsegur -- whom the DOJ said was arrested and convicted in August 2011 -- was that mole.
"We are done talking about Sabu," tweeted @YourAnonNews. "He is a person who is too scared for revolution. We will continue to fight and show that Sabu was no one."
Still, the group urged its followers to block Monsegur's Twitter account. That account abruptly stopped tweeting Tuesday morning with a final message: "Die Revolution sagt ich bin, ich war, ich werde sein," which is German for, "The revolution says I am, I was, I will be."
The four ringleaders arrested Tuesday were all close associates of Monsegur -- "close" being a relative term for alleged Internet criminals. Monsegur was from New York, two of the other leaders were from the United Kingdom, and two were from Ireland. The fifth, more loosely connected arrestee was from Chicago.
The hackers are facing a combined seven counts and a maximum of 105 years of jail time, according to an indictment unsealed by a federal court.
Monsegur pled guilty to twelve counts in August, including computer hacking conspiracy, fraud and aggravated identity theft. The DOJ says he faces up to 124 years in prison, but that will likely be reduced due to his cooperation with authorities.
Monsegur and his associates were charged with operating several high-profile attacks, beginning with the December 2010 denial of service attacks that temporarily took down Visa (V, Fortune 500) and MasterCard's (MA, Fortune 500) websites. The attack was in response to the credit card company's refusal to process donations to Wikileaks. Factions of Anonymous also attacked PayPal and Amazon (AMZN, Fortune 500) but were not able to bring those sites down.
After their attack on Visa and Mastercard, the group of five affiliated themselves with a hacktivist group called InternetFeds. With InternetFeds, they hacked an Irish political party website, stole data from 80,000 user accounts at security firm HBGary Federal, and stole information about 70,000 potential "X-Factor" TV show contestants.
Having achieved a high level of notoriety in the hacking community, Monsegur and three of the four InternetFeds associates formed LulzSec. That group is perhaps best known for its odd stick figure logo of an aristocrat -- and for its hacks on PBS, Sony and Bethesda Softworks. LulzSec stole account data from 100,000 users of Sony's website and captured 200,000 records from Bethesda.
The group also seized control of the website of The Sun, the News Corp. (NWS) sister publication of News of the World, when it was embroiled in scandal last July.
The @YourAnonNews Twitter account said that, despite the arrests, "We will still be stronger than ever. LulzSec has been dead for a while."
There's some truth to that.
LulzSec disbanded in June 2011, but hacks from other groups calling themselves "Anonymous" have since continued.
The movement launched its biggest attack yet in January, when thousands of people teamed up and temporarily blocked access to the websites of the U.S. Department of Justice, the FBI, the Copyright Office, the Motion Picture Association, the Recording Industry Association, and several other music industry sites in retaliation for the DOJ's shuttering of Megaupload, a popular content site that hosted a large collection of pirated media.